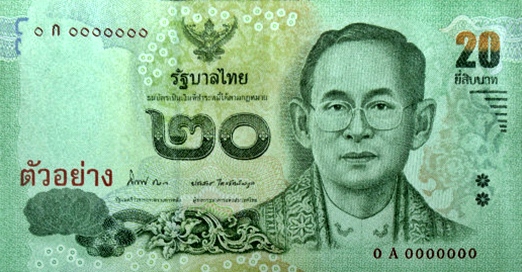 Funny, when you mention April 1st, most people think of April Fool's Day. But, the issue of a new 20-baht banknote by Thailand on April 1st isn't an April Fool's joke at all. In fact, it's a very clever new design of the 20-baht banknote that's been created to last longer, make it easier for blind people to figure out what denomination they're holding, and make it much more difficult for counterfeiters to copy. All good things in my mind.
The new 20-baht banknote will still be the same size as the original banknote and the same color — green. The differences, however, are in the higher quality of paper used, the addition of Braille for those who cannot see the money they are holding, and a cool looking security thread that, when you hold it up to the light, will change to a reddish-purple. That means, if you're not sure the 20-baht note you have in your hand is genuine, it's much easier to tell.
Thailand's beloved King Bhumipol Adulyadej will, of course, still be on the front of the note but with a more updated likeness and King Ramkhamhaeng will be on the back.
The new 20-baht banknote will first be issued by Thai banks on Monday, April 1st. Check your change carefully. You may soon get one.
Remember too, as every Thai banknote has an image of the present King and former kings of Thailand on them, Thai money must always be treated with respect. Dropping one on the ground and then stepping on it to prevent it blowing away is a no-no in Thailand and highly likely to cause Thais to become angry if they presume you have done it intentionally.