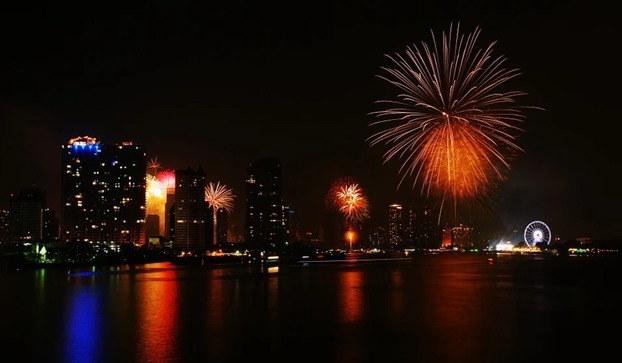 If you thought traveling to Bangkok, Thailand for New Year was going to allow you to have some much needed fun at one of Bangkok's New Year's Eve celebration events, think again.
Due to yet more governmental panic over the Covid-19 virus, this time over the 'Omicron variant', the Bangkok Metropolitan Administration (BMA) has announced all public events planned by the city government for New Year's Eve have been cancelled.
The BMA is also asking private organizations that are putting on New Year's celebrations in Bangkok to also consider canceling them.
This comes on the tail of the CCSA suspending the entire Test & Go program earlier in the week after a few people tested positive for Omicron, meaning any tourist expecting to arrive in Thailand, test for Covid-19 and then head off on their vacation with a negative test, will now be expected to quarantine instead.
Again.
Over a virus, we add, the South Africans that discovered the new variant and the UK health authorities that logged some of the first cases of the new variant say has extremely mild effects (think a minor cold, if the person contracting it suffers any symptoms at all), with most people that contract it continuing to be asymptomatic.
Of course, this being Thailand, the New Year's celebrations in Bangkok being canceled, and tourists being forced into quarantine yet again does not surprise most people.
In particular expats living in Thailand, who have been predicting just this on social media for weeks.
After all, the Thai government of Prayut Chan-o-cha and the CCSA have flip-flopped their way through the entire pandemic, with rules changing from one day to the next.
For both locals and for would-be international tourists.
This is why we have been urging anyone we know considering traveling to Thailand to reconsider, likely until at least the end of 2022 or even into 2023, as the chance of losing large amounts of money on a vacation that has to be canceled due to Thai government rules about Covid-19 changing yet again is very real.
The New Year celebrations in Bangkok canceled so far include an overnight prayer ceremony, a New Year's Day morning alms-offering to monks, religious ceremonies in district offices and other local events.
With Central World and Iconsiam also planning large New Year countdown parties, you can all but guarantee they will soon be canceled as well.
In other words, as Thai authorities' fear of Covid-19 shows no sign of abating into 2022 and beyond, again we say to all our readers, if you are considering traveling to Thailand within the next few months, reconsider until the situation is back to normal. Permanently.
Otherwise, you  chance having any event you plan on attending in Thailand being canceled, you take the chance of being put into quarantine for up to 14 days, even if you are asymptomatic but test positive for Covid-19, and you chance your entire vacation being canceled if the Thai government suddenly decides to lock down Thailand's borders again.
Think it can't happen?
Watch the latest panic over the 'Omicron variant', a variant more than six weeks since its discovery that is proving to be no more harmful than a common cold to 99.99% of people that contract it.
And then decide.
Update: 12/26 — As we predicted, Central World has announced their New Year's Eve celebrations in Bangkok have been cancelled as an in-person event. Instead, anyone in Thailand will be able to watch the celebration on TV.
That leaves Iconsiam with the only large privately planned New Year's Eve celebration in the Thai capital. Our prediction is that will also be cancelled, or people banned from attending in the next couple of days.