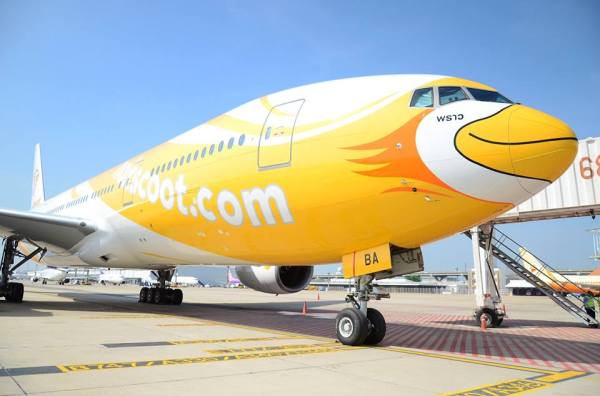 As Thailand's economic outlook continues to look dire for at least the rest of 2020, with a deep recession that could last well into 2021 potentially imminent, budget airline NokScoot has gone out of business.
The regional airline announced today, with its financial situation as it is and the future of international travel to Thailand in doubt for at least the next few months, it could not see any way to recover from the impact of the coronavirus lockdowns.
The airline's board of directors decided to liquidate the company, therefore, and layoff its 450 employees.
During the last few years, NokScoot flew routes to various cities in China and Japan, as well as to New Delhi, Singapore and Taipei. The airline was founded in 2014 and was jointly owned by Thailand's Nok Airlines and Singapore's Scoot.
Until the NokScoot collapse today it was one of eight airlines still asking for soft loans from the Thai government. Loans that have not yet been approved and, if not approved, could eventually cause other Thai airlines to also go out of business.
Particularly as, with Thailand still shut down to international visitors, and with a senior director of the Civil Aviation Authority of Thailand saying international flights are not likely to resume until the end of September, the economic outlook for Thailand is currently poor and getting worse.
Two days ago, the Thai Central Bank cut its GDP outlook for the country to negative 8.1%.
The Thai baht is also strong in relation to currencies like the dollar and the euro, which has caused the cost of exports to rise. This and the rapidly slowing world economy due to the coronavirus is causing many exports to fall.
Thai exports between January and May, 2020 fell 3.71% to their lowest level in four years.
Due to the strong baht, manufacturing slowing and the tourism industry in crisis due to the Thai government's unwillingness to open borders to foreign nationals, thousands of other businesses could go bankrupt in the next few months putting tens of thousands more Thais out of work.
All of these factors combined, along with Thai household debt currently 80% of the country's GDP and the added problem of high unemployment, could cause a Thailand recession in 2020 and beyond that is much worse than analysts currently believe.