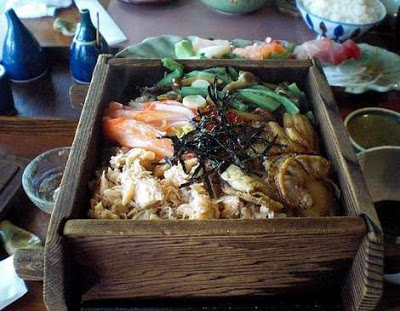 One of the busiest restaurants in Bangkok is a Japanese fast food chain called Ootoya. Now, I say, 'fast food' because that's how they describe themselves but it's not necessarily true. Ootoya sells incredibly fresh and incredibly healthy typical Japanese food at a fraction of the cost of similar food in the US. Ootoya has 11 branches in Bangkok. I have eaten at four branches of Ootoya and was thrilled with both the food and the service and here's why.

The Food at Ootoya
The food at Ootoya is typical Japanese food. There are a lot of noodle items on the menu, tonkatsu, miso soups, tofu, rice dishes, grilled fish, and the dishes are enormous and incredibly fresh. The cost for most dishes is less than 200 baht (around $6) and that's for a 'set'. A set means it comes with rice, miso soup, a couple of sides of pickled vegetables and sometimes some fruit. For $6, you get five or six dishes plus hot or cold green tea. The green tea is free and you can have as many refills as you like.
My favorite dish at Ootoya is a grilled chicken and egg dish served over real Japanese rice. Most Japanese restaurants in Thailand serve Thai rice but Ootoya only serves Japanese rice. You can tell because it's smaller and the edges of the rice are more rounded than pointed. It also has a distinct flavor.
The Service at Ootoya
Although Ootoya is billed as a 'fast food restaurant', it's not really, as the service is not particularly fast. But, every dish is made fresh when you order and it arrives at your table piping hot. Meanwhile, while you're waiting the waitress will usually bring a small side dish of pickled vegetables for you to nibble on and will be constantly returning to fill up your hot or cold green tea.
The service though is good and the staff is always polite, the restaurants are incredibly clean and, when the food arrives, unlike some restaurants in Thailand it is always the food you ordered.
The Ootoya Branches
Ootoya currently has 12 restaurant branches in Bangkok. The best ones, I think, are at Central World Plaza, Siam Paragon, J Avenue, and Mahboonkrong (MBK mall). All their branches though are convenient and usually within a couple of minutes walk from a sky train or underground train station.
The Price at Ootoya
For the freshness of the food and the enormous portions, the price at Ootoya is excellent. The last time I ate there, I had the chicken, egg and rice set, which came with four side dishes including miso soup. With the green tea (free), my total bill including tip was 210 baht ($6.05). Ootoya is also quite a hi-so (high-society) type of restaurant, so $6 for this level of restaurant is exceptionally inexpensive.
I recommend eating at an Ootoya restaurant branch if you haven't eaten there already. They have a distinctive blue sign with white writing in both Japanese and English that says 'Ootoya', so you can't miss it. They also have their entire menu displayed outside on a board, so you can peruse your choices before you go inside.
The only caution is I would recommend getting to any Ootoya branch at least 15 minutes before you want to eat. There is almost always a wait time as Ootoya is so popular. The most I have ever waited though has been 20 minutes and it normally runs around the 10 minute mark. Other than the small wait though, Ootoya is a perfect Japanese restaurant.