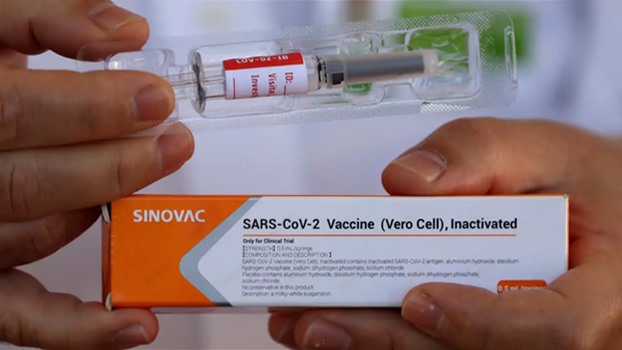 Indonesian health workers infected with Covid after Sinovac vaccine
The Chinese-made Covid-19 vaccine Sinovac has never had the efficacy rate of other vaccines developed against the virus.
According to data from a Brazilian study, it has an efficacy rate of just 50.7% in preventing symptomatic infection, and an effectiveness of 67% according to a study carried out in Chile.
It should be no surprise then news out of Indonesia reports more than 350 doctors, nurses and other Indonesian healthcare workers have contracted Covid-19 after being vaccinated with Sinovac.
Dozens of the Indonesian healthcare workers are currently hospitalized with moderate to severe symptoms, with some showing signs of declining oxygen levels.
One older doctor vaccinated with Sinovac has also died from the virus.
Healthcare workers in Indonesia were some of the first to be vaccinated with Sinovac in the country, as they have a higher chance of contracting Covid due to contact with infected patients.
The Indonesian Medical Association (IDI) says most of the healthcare workers contracted the Delta variant of Covid-19, which is believed by some scientists to be more infectious than other variants.
With little data to show Sinovac is effective against the Delta variant, however, the IDI is now concerned Indonesians vaccinated with Sinovac may have low levels of immunity against the variant.
Thais vaccinated with Sinovac
If true, it is something that could become a problem in Thailand where many Thais are also being vaccinated with Sinovac.
Particularly as Medical Sciences Department (MSD)'s Supakit Sirirak said earlier this week the MSD believes the Delta variant may become the dominant strain in Thailand, with 137 more Covid patients having been diagnosed with the variant in nine Thai provinces this week alone.
A total of 496 patients in 20 Thai provinces have now been diagnosed with the variant first detected in India.
Meanwhile, Costa Rican authorities have announced they are rejecting delivery of the Sinovac vaccine, as they believe there isn't enough evidence to show it is effective against any Covid-19 variant let alone the Delta variant.