Which places get the most Facebook checkins in Thailand?
I have a Facebook account. I just never use it. So, I'm not one of the apparently millions of people in Thailand who use Facebook checkins to tell people where they are (I honestly don't know why you would?) But, with millions of people using them, which are the places with the most Facebook checkins in Thailand? I doubt you'll be surprised.
According to a website called Social Bakers, which keeps track of the latest things happening in the world of social media, the top 10 places with the most Facebook check-ins in Thailand are these: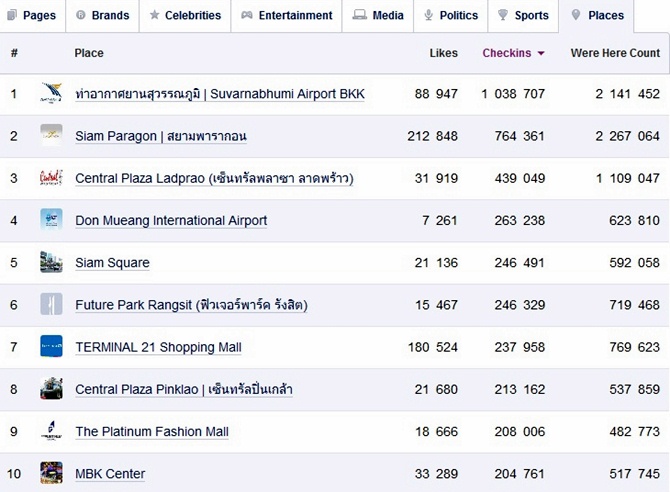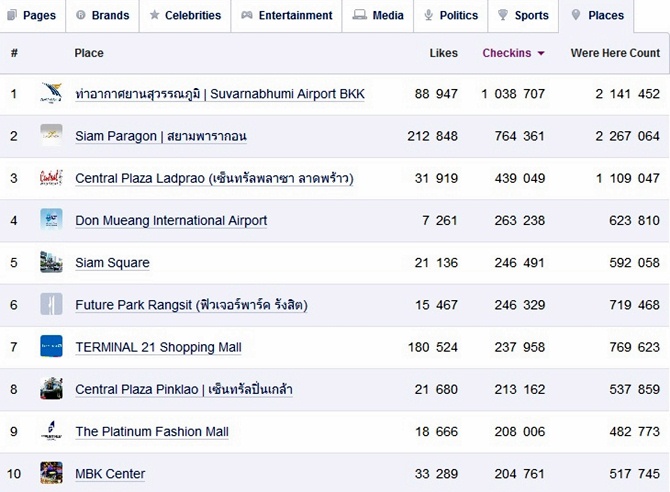 No, not surprising, but definitely interesting. Particularly as all of them are in Bangkok and most of them are places your average Bangkokian would go to almost every week.
Tourists too use Facebook checkins in Thailand at places like Suvarnabhumi Airport, Siam Paragon shopping mall, MBK Center and Terminal 21. After all, they are some of the most visited places in the kingdom and, if you're on holiday in an exotic place like Thailand, don't you want to brag just a little bit to the folks back home?
Social Bakers is interesting as they don't only cover the places with the most Facebook checkins in Thailand. They also show the most popular Thai celebrities, most popular websites, the most popular brands and which sports teams and players are the most liked by Thais (Manchester United? What a surprise. Not!) Check them out. And, yes, they are updated daily so the listings will change.