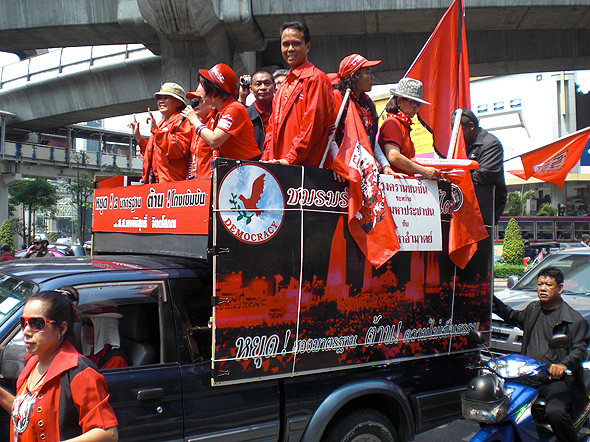 If you are going to be in downtown Bangkok today, you might want to avoid the Ratchprasong area of town. That is because there is going to be a large red shirt rally at Ratchprasong commemorating the 3rd anniversary of the army crackdown of red shirt protests in which almost 100 people died, including several foreign journalists.
Of course, as is usual during red shirt rallies, they are pretty safe so it's not for reasons of 'danger' why we are saying avoid the area. It's simply that, if you will be driving down there — forget it.
The traffic will be horrendous and some roads will be closed — and, if you want to be able to walk around in a not-too crowded place, that will be impossible as well.
More than 50,000 red shirts will likely be at the Ratchprasong rally, along with TV cameras and many, many curious bystanders.
Of course, if you would like to see a piece of Thai history in action, by all means go.
I usually do as the atmosphere is fascinating and the red shirts are always friendly and nice, particularly to westerners who are obviously interested in what's going on. Plus, they set up food stalls selling excellent cheap food and stalls selling t-shirts, photos, magazines, coffee mugs and other interesting souvenirs.
The red shirt rally at Ratchprasong in Bangkok officially starts at 10am, today May 19th, 2013, but most people usually don't arrive until early to mid-afternoon and it gets particularly busy by 5pm.
If you do go, make sure to take your camera as it's a fascinating place to take photographs.
You can easily get there on Bangkok's BTS sky train. Just get off at Chidlom station. Of course, you won't be able to miss the rally as you will immediately see the sea of red shirts.