Iberry Ice Cream is a small chain of Thai ice cream shops. They sell delicious ice cream in more than 100 flavors, but they're famous, more than anything, for their incredibly stylized shops – all different in
every location and all designed like a Vogue backdrop.
I was recently in Chiang Mai and visited the Iberry Homemade Ice Cream shop just off Nimmanhemin Road. The Iberry Ice Cream shop there is one of the most beautiful ice cream shops I've ever seen, and one of the coolest too.
Iberry Ice Cream off Nimmanhemin Road in Chiang Mai is down a couple of winding sois in a residential neighborhood. Zoning laws don't really apply in Thailand, so you can open a restaurant right opposite a row of houses and the owners of the houses will not only not complain, they'll love it. Thais love food and they especially love ice cream so, when we got to Iberry Ice Cream, I was not surprised to see it absolutely crowded.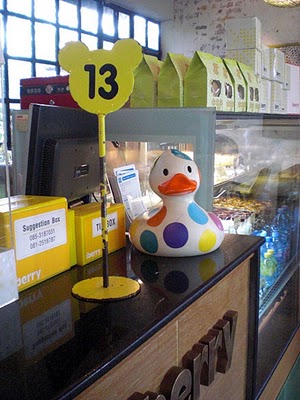 The ice cream shop itself is set back off the street at the back of an enormous garden. From the outside, you can tell it used to be a house but extensive renovations have been done so that it now has enormous glass windows overlooking the street, and each window was crowded with customers.
Inside the Iberry Ice Cream shop, the design was spectacular. Whitewashed walls that had then been sponge painted to give them a distressed look, overstuffed comfortable chairs, low tables, interesting art work on the walls and lots of odd looking ornaments gave it a funky air. We ordered two scoops of ice cream – salted plum sorbet and blueberry cheesecake – and went outside to get a table. In the garden, there are many low tables and benches, and on the lawn an absolutely enormous yellow dog and a life-sized statue of Chairman Mao. Very cool.
When you order the ice cream, they give you a metal number that's shaped like Mickey Mouse ears. We had number 13 and, as it turned out, it was unlucky.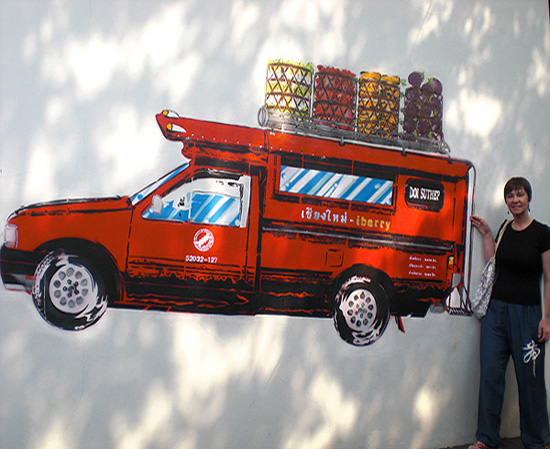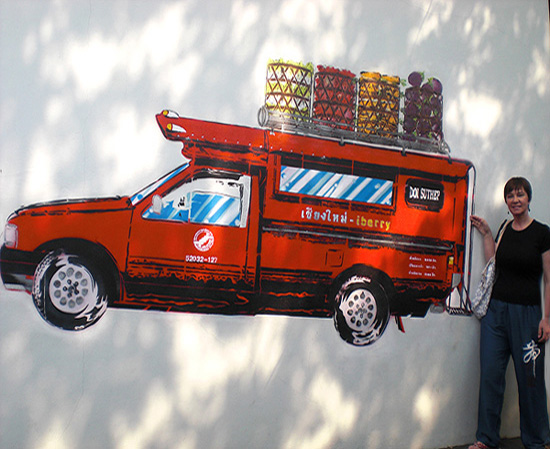 Almost 30 minutes later, we still hadn't received our two scoops of ice cream and, at that point, my Thai friend went back into the shop to complain. The ice cream was brought out quickly after that and it was delicious. The salted plum sorbet has a fascinating salty taste that then becomes sweeter the more you taste it.
The blueberry cheesecake is sweet and delicious with a truly strong blueberry flavor. At 90 baht ($3) for two scoops though it's a bit expensive. In Thailand, ice cream is usually around 20-25 baht (60-85 cents) per scoop so at two and a half times the average price, Iberry, in my opinion, is over priced.
Iberry does however sell unusual flavors, which is another reason it's popular, and as it's the "cool place" to hang out, due to the design and fashionable feel to it, none of the Iberry shops seem to have a problem being busy.
With more than 100 flavors, the fruit flavors of which are changed out every month as new fruits come into season, and with other ice cream delights – cakes, ice cream rolls that look like sushi, – there's plenty of choice so, if you're an ice cream lover, you should find many flavors to delight. I've probably tried 10 different ice cream and sorbet flavors and every one has been tasty. I particularly like the tamarind flavor – tamarind being one of Thailand's most famous fruits.
There are still only a few Iberry ice cream shops in Thailand (around 17 the last time I checked) although they are expanding quite rapidly. You can get Iberry ice cream in Phuket, Pattaya, Chiang Mai and Bangkok, with most of the branches being in Bangkok.
The branch in Chiang Mai, though, is definitely the nicest of the Iberry shops I've visited and well worth a visit not just for the ice cream but also for the lovely atmosphere and amazing design.