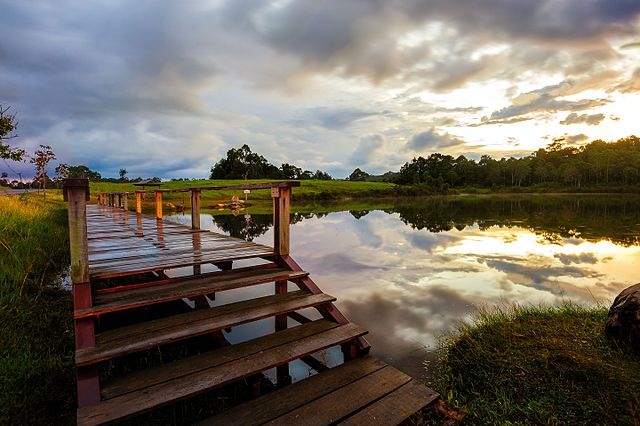 For a westerner to visit a Thai national park is not as common as you'd expect. Tourists come from all over the world to Thailand but few leave Bangkok, the typical tourist cities like Chiang Mai or Pai, or the beaches, so visiting Thailand's national parks isn't usual.
A pity really, as they are not only beautiful but there are tons of things to do too – trekking, mountain climbing, biking, white water rafting, horseriding, golf, bird watching and wildlife watching – it's not like you're stuck out in the jungle bored stiff.
Thailand actually has many national parks so if you like nature and a bit of wildlife, why not eschew the beaches and the big cities and head out into the jungle and visit one of these best Thailand national parks instead.
Khao Yai National Park – Khao Yai is one of the most famous national parks in Thailand as it's only a 2 hour drive from Bangkok so easy to get to. Khao Yai is also the park I just came back from and it really is beautiful.
Eco-tourism is popular in Khao Yai so you'll see a lot of wildlife (elephants, tigers, deer, lemurs), and you can enjoy trekking, horseback riding, golfing, fishing, biking and more. Khao Yai also has some excellent resort hotels that are western standard so you don't have to rough it if you want to visit a Thai national park.
Mu Ko Surin National Park – Mu Ko is an interesting national park in Thailand as it consists of five islands, a bunch of rocks and some 'island's that are nothing more than jungle. You can see the famous sea gypsies here (Thai tribes that live in a village of floating houses out in the water), as well as lots of wildlife. Rent a boat (with boatman) and go out into the middle of the water, drop anchor and take a swim – beautiful.
There is also some park accommodation on a couple of the islands (not high-standard, but good enough for a couple of nights), which you'll love if you like a vacation where you're 'roughing it' a bit and with not many people around.
Khao Luang National Park – Located down south near Nakhon Si Thammarat, Khao Luang National Park is known for its high mountain peak (Khao Luang itself), which you can climb, as well as the enormous variety of wildlife. The clouded leopard is a rare species of big cat that's not seen often, but if you are lucky you may see it in Khao Luang.
The park is also famous for some beautiful waterfalls, a natural feature that Thais absolutely love so, if you do get to one, be prepared for quite a few people lounging around on the rocks and in the pools.
Khao Luang is a very beautiful national park, where you can hike for days without seeing many people. If you decide to do so, make sure you hire a guide to go with you as hiking through a Thai park can be intimidating if you're not sure where you're going.
Tarutao National Park – Made up of a group of 51 protected islands in the Andaman Sea, Tarutao National Park is famous for its marine life, especially dolphins, crocodiles and sea turtles.
It is mostly famous though for being used for the 2002 'Survivor: Thailand" television show.
Ko Tarutao is the biggest island and has some of the loveliest beaches you'll ever see. Swimming and diving here is amazing as the water is so clear and, because it's the site of healthy coral reefs, the fish you'll see are unbelievable.
These four national parks in Thailand are gorgeous places to visit. They're each completely different (mountains, beach, oceans, jungle) but there's something for everyone.
The best time to visit most of Thailand's national parks is during September to March before the hot and rainy season starts but, even in the rainy season, it is still possible to see a lot and have a wonderful time. So put on your hiking boots (or your bikini) and head out into one of Thailand's famous national parks – they'll put Bangkok to shame.
Honestly.