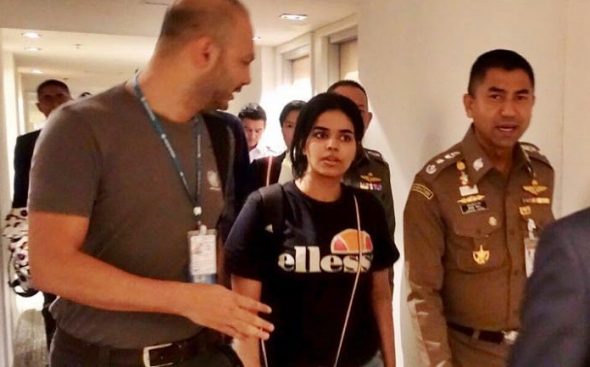 Saudi Arabian asylum seeker Rahaf Alqunun will arrive in Canada on Saturday, after leaving Bangkok, Thailand where she had been waiting since last weekend for a country to offer her asylum.
That country eventually turned out to be Canada, which accepted the request of the U.N. High Commissioner for Refugees for asylum.
As soon as Alqunun was told on Thursday that Canada would take her, she immediately made plans to leave Thailand.
Alqunun ultimately left Bangkok on Friday, flying to Canada via Seoul, South Korea. She will arrive in Canada some time on Saturday, January 12th.
As Canadian Prime Minister Justin Trudeau said about Rahaf Alqunun and her asylum request,
"That is something that we are pleased to do because Canada is a country that understands how important it is to stand up for human rights, and to stand up for woman's rights around the world. I can confirm that we have accepted the U.N.'s request".
Saudi citizen Rahaf Alqunun initially left Kuwait last weekend on a trip to Australia. A country where she planned on applying for asylum, as she said she was afraid for her life due to her psychologically and physically abusive family.
Upon arrival at her transit airport in Bangkok, Thailand, however, Algunun was waylaid by a Saudi diplomat and Thai authorities.
Her passport was taken from her, and she was told she would be deported back to Kuwait at the first available opportunity.
The young woman then barricaded herself in a hotel room, got on Twitter and asked for asylum from Australia, Canada, the United Kingdom or the United States.
After a barrage of support on Twitter from all over the world, Australia agreed to look at her application, but Canada stepped forward and offered Alqunun asylum.
Rahaf Alqunun's arrival in Canada later today will be the beginning of her new life.