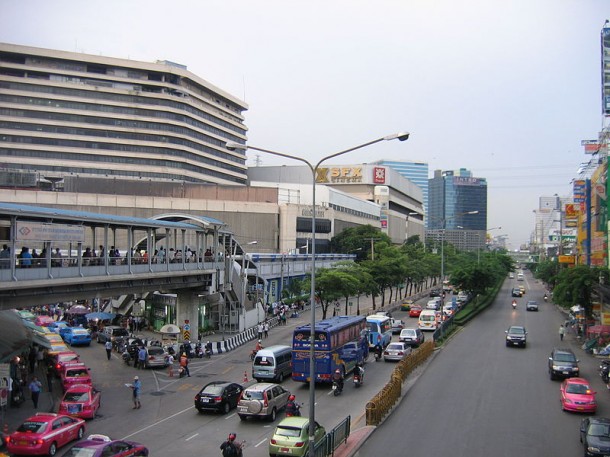 Are you thinking of buying or opening a small foreign-owned business in Thailand? Are you aware that some foreign-owned businesses are moving out of Thailand due to last year's floods, which put tens of thousands of businesses under several feet of water for up to three months?
Do you know that foreign-owned businesses in Thailand have many restrictions Thai-owned businesses don't?
Are you willing to put up with a Thai part-owner who owns more of the business than you do, as most businesses are not allowed to be owned 100 percent by foreigners?
If you don't mind any of the above, then here is what you need to know about opening or buying a small foreign-owned business in Thailand.
Will Floods in Thailand Damage Foreign-Owned Businesses in the Future?
Since last year's floods, the Thai government is starting to pander to large foreign-owned businesses more than normal. They have to, as so many were considering leaving after losing so much money due to floods in 2011, and then worrying about new floods in 2012.
Since then, the Thai government has promised large foreign-owned businesses a situation like last year's devastating floods will not be allowed to happen again and, so far, are starting to implement new flood barriers and other ways to prevent water entering industrial estates mainly populated by foreign-owned businesses.
If, however, your business is not on one of those industrial estates, yes, you could still have problems with flooding in Thailand.
But, even if flooding doesn't become a problem again this year, if you want to buy a small business in Thailand you must still be well-versed in Thailand's severely restrictive practices when it comes to small foreign-owned businesses, before you even think about buying or opening a business in Thailand.
A Foreigner Cannot Own 100% of a Business in Thailand
As a foreigner in Thailand, you cannot own a small business outright. You must have a Thai partner that owns 51% of the business, with you owning 49%. Yes, Thailand is unfortunately behind much of the rest of the world in this regard, which is also why some small business owners think Thailand will begin to fall further and further behind many other Asian countries, where foreign business ownership isn't as restrictive.
But, if you want to own a business in Thailand, this is what you have to agree to — and hope it eventually does change.
It also means you must find a Thai partner you can trust, as there have been instances of foreigners being cheated out of their small businesses by Thai partners, who own a controlling interest in the firm, often without putting in any money of their own.
Only Americans Can Own 100% of a Business in Thailand
Thailand has an agreement with the United States called the Treaty of Amity, which allows Americans to own 100 percent of a business in Thailand. They are the only nationality that are allowed to do this, which means if you are American there is no need for a Thai partner as long as your small business is certified under the Treaty of Amity.
Law firms in Thailand that deal with setting up companies for foreigners can give you all the details, and make sure you complete all the relevant paperwork.
Be aware though, a business bought or opened in Thailand under the Treaty of Amity is more expensive to set up, takes longer to do so, and is under greater scrutiny by Thai authorities.
Getting work permits too can be a nuisance under an Amity Treaty business, as you have to hire at least four Thais or you must leave the country every three months to renew your work permit until you can.
But, if you don't want a Thai partner, this is the only way to have 100% ownership of a business for most non-Thai small business owners.
Working in Your Own Business
Be aware too, Thailand has strange laws about foreigners working in their own businesses.
Yes, you can buy a bar, a coffee shop or a restaurant, but try working in that business behind the counter and see how quickly you are given a huge fine. Owning a small business in Thailand does not always mean you can work in it, so do make sure you're allowed to before you start doing so.
In some cases, you can work in your own business, but you have to have a large amount of paid up capital tied up in a Thai bank account per foreign worker, capital that you are not allowed to touch, before you are allowed a work permit.
If you do work in the businesses without a work permit to do so, you can almost guarantee someone will eventually turn you in and you will receive a visit from the police, and a hefty fine.
There was even an instance recently of a foreigner who owned a bar in Pattaya being fined several thousand baht by Thai police because he picked up a cloth and wiped a dirty table after a customer asked him to.
Wiping a table for a customer in Thailand = working in your business illegally = big fine from Thai police. Now you wonder why many foreigners decide owning a business in Thailand is not for them.
Renewal of Business Permit Every Year
Don't forget too, there is no automatic renewal of a business permit in Thailand. Every year is treated as a new application, with you having to submit the enormous number of documents you submitted last year.
Yes, this is Thailand, and this is how they do it here.
Speak to Foreign Business Owners Before Opening Your Own
If you still want to open a small foreign-owned business in Thailand, I would recommend speaking to a few foreigners who do own their own businesses. You may be surprised, but some will tell you not to even think about it as the cost is too high, the profits too low, and the hoops you have to jump through simply too big.
You may, however, find a few that have made a decent go of it. They are, unfortunately, still in the minority.
Overall, I would say think twice, three and four times about opening a small foreign-owned business in Thailand.
With high fees, massive amounts of paperwork, permits to constantly need to renew, the need to hand over most of your business to a Thai, and rules that apply to foreigners and not to Thais, many people would think twice before opening a business in Thailand. You may think differently.
Of course, if you're moving a large international business here, Thailand will make that as easy for you as they possibly can.