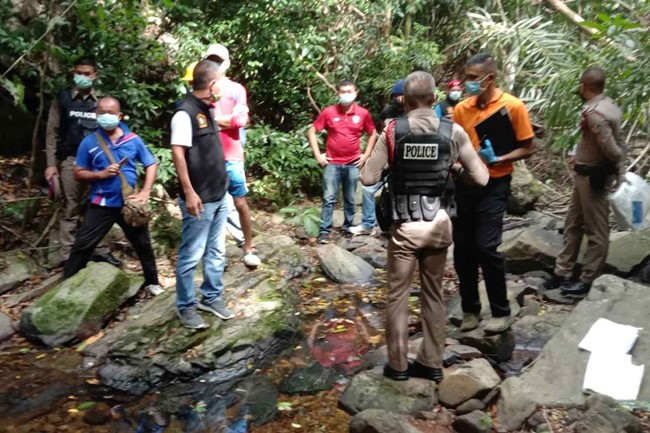 According to the Bangkok Post, the body of a 57-year-old Swiss woman has been found lying on rocks near a Phuket waterfall. Authorities say they believe she had been raped and murdered.
The woman's partially nude body was found by a Thai local early this afternoon near the Ton Ao Yon Waterfall, but police believe she had probably been dead for approximately three days.
The last known sighting of her was on Tuesday at 2pm when a witness saw the woman leaving The Mooring Resort Hotel and heading towards the beach.
Police say the Swiss woman had arrived from Singapore alone on July 13th via the Phuket Sandbox, and had been staying at the Dusit Thani Laguna Hotel before moving to The Mooring Resort Hotel after her initial 14-days in the Sandbox scheme had ended.
Thai news media is naming her as Nicole Sauvain-Weisskopt, although this is yet to be confirmed by Thai authorities.
Unconfirmed reports also state she may have been involved in a diplomatic position with the Swiss government.
Her body has now been transported to Vachira Phuket Hospital for an autopsy.
According to the TAT today, a total of 14,000 international travelers have arrived on Phuket since July 1st under the Phuket Sandbox program.
Bookings for August, however, are lower than in July, but that is to be expected as those wanting to get back to Thailand as soon as possible were a substantial number of those taking advantage of the Sandbox as soon as the program began.
With increased restrictions in place, bars and entertainment facilities mandated closed, and alcohol now not allowed to be sold in restaurants, other tourists who planned to travel to Thailand via the Sandbox are on social media having second thoughts or are postponing their trip until Thailand returns to normal.
As the murder of a Swiss tourist who was visiting Phuket via the Sandbox will now make international news, this could dissuade others even further.
Meanwhile, the TAT says the country with the largest number of its citizens arriving on Phuket in July was the United States, with tourists from the United Kingdom, Israel, France and Germany the next largest numbers.
Almost 900 Thai citizens also used the Phuket Sandbox as a way of getting back into Thailand.