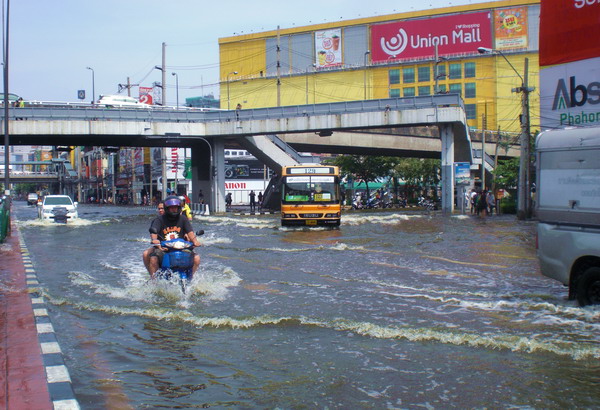 BANGKOK — As Thailand's floods start to recede, more worries are emerging about unemployment problems negatively affecting Thailand's economy. Hundreds of thousands of Thais, and foreign workers, whose places of employment shut down when flood waters hit, are now concerned about jobs.
Many Thais were laid off from submerged factories, shop assistants lost jobs as stores and malls were unable to open, and Thai and foreign teachers suffered as schools remain closed and salaries unpaid.
In my neighborhood of Bangkok, Thailand's employment problems are all too evident. Motorcycle taxi drivers, who run up and down my street, lost two weeks of income when flood waters arrived. The enormous mall near my house, which had just reopened after six months closure due to a renovation, had to shut again for two weeks when the road outside the mall was flooded with three feet of water
Khun Pod, one of the friendly motorcycle taxi drivers who I've known for years, told me on Thursday his wife had not been able to work for almost a month. The factory she works at on the outskirts of Bangkok had been under water all that time and, although the owners had paid her one week's salary, she wasn't sure if she'd get the other three weeks' owing to her.
Meanwhile, even though she's signed up at the local unemployment office, so is almost every other of the 900 employees working at the same factory. So her chances of finding something else are low.
On Thursday, I met a friend for lunch at a local market. Normally, at midday, the market food court is crowded with workers from local businesses, all rushing to eat lunch before they have to go back to work. On Thursday, the food court was almost empty and, when we asked why, several stall owners told us many local companies were still closed, as they tried to clean up after three feet of flood water had inundated them.
At the vegetable stall where I buy food for my rabbits, Khun Lek, the lovely seller, had so many items, she gave me an even bigger discount than normal as she was afraid all her produce would start to rot if she couldn't get rid of it. She said, "I'd rather give it away then see it spoil but, if customers stay away like now, I don't know how much longer I can afford to stay open".
Thailand's economy is based mainly on manufacturing, exports, rice (they're the world's biggest rice exporter), tourism, and millions of mom and pop businesses. Every single one of these industries has been hit by Thailand's worst floods in almost 70 years.
According to Reuters, floods have probably destroyed 25% of rice crops causing Thailand not to be able to meet its orders for rice exports to other countries. Tourists, frightened of being stuck in flood areas, are staying away, and thousands of mom and pop businesses are still under three feet of water, so remain closed.
Manufacturing has also been badly hit, with plants like Honda and Toyota shut down for two months. Honda, near Ayutthaya, is still under water and it's likely to be the New Year before they can reopen.
Meanwhile, Thailand has revised its expected growth rate for 2011 from a previously expected four percent to only 1.5 percent now.
That Thailand's floods have sunk the country's economy is an understatement.