OPINION
While many Thai officials seem to have a somewhat rosy picture of Thailand's economic recovery, after the country has been battered by border closings and lockdowns due to a panic over Covid-19, the World Bank has a less positive outlook.
That body predicts Thailand's economic recovery will take at least two years, and that is only if floods, a drought or another Covid wave and subsequent panic don't occur first.
Kiatipong Ariyapruchya, World Bank senior economist for Thailand released the bank's predictions yesterday, with an estimate Thailand's economy will shrink by at least 8.3% by the end of 2020.
That places it in the position of being one of the most badly affected economies in Asia, and in the world as a whole.
With Thailand's borders still firmly closed, however, and no sign of them re-opening to more than a few this year, plus a myriad of other economic problems still occurring and possibly worsening, it is difficult to see how the World Bank believes only an 8.3% contraction of Thailand's economy is likely?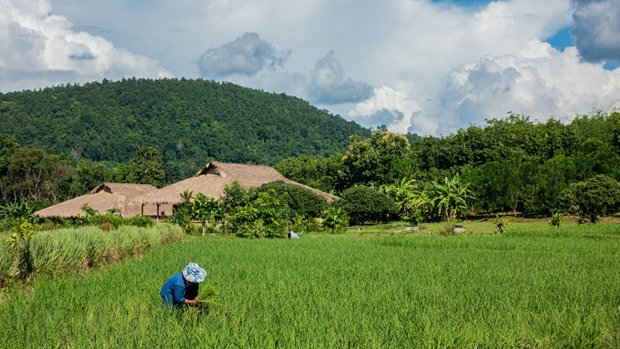 A higher contraction of Thailand's economy than 8.3% likely?
Tourism in Thailand accounts for up to 20% of the country's GDP.
When the Thai government of Prayut Chan-o-cha shut the country's borders to almost all foreign visitors, that effectively cut off one fifth of Thailand's GDP from the end of March this year until the current time.
After all, even with government stimulus packages, domestic tourism has also slumped as Thais are worried about losing jobs or businesses. Many do not want to spend money on travel-related expenses with such an uncertain future.
Investments too are markedly down in Thailand, with Reuters recently reporting most active investment has been pulled out of Thailand and moved elsewhere.
Thai exports are also at their lowest point in more than 10 years, with a recently reported 23.2% drop compared to the same period in 2019.
That percentage is not expected to rise by much until the world economy begins to recover.
With regions like Europe, much of Asia, Australia, New Zealand, South America and the United States still in flat-out panic about Covid-19, economic recovery in most of these areas is not expected to even begin until at least early to mid-2021.
That means money from those areas of the world will be in short supply when it comes to purchasing Thai exports.
As the IMF pointed out in July, "Asia cannot grow by itself while the whole world is suffering".
Government economic stimulus slow to arrive but it is tourism, or the lack thereof, killing Thailand's economy
The Thai government has also been slow to distribute economic stimulus packages.
Birgit Hansl, World Bank manager for Thailand pointed out this week, while the Thai government had planned to spend  8-13% of the country's GDP in an effort to stimulate the economy, only 4% was actually injected into it.
The major worry about Thailand's economic growth going forward, however, is tourism.
With the industry currently in freefall, and 60-70% of tourism-related businesses in tourist-dependent areas like Pattaya completely shut down, some permanently, this could leave around 8 million Thais relying on that industry newly unemployed by the end of 2020.
With an estimated 38 million people employed in Thailand at any one time, to have over 8 million newly unemployed means an additional 21.05% of working age Thais could be on the unemployment rolls in the next few months.
With many of Thailand's workers being what the IMF calls 'informal workers', meaning they do not appear in official government records, unemployment in Thailand could be worse than that.
This situation could also hamper Thailand's economic recovery even further.
Finally, millions of Thai households have enormous amounts of debt, with Thailand's household debt currently an estimated 80% of GDP — one of the highest in the world.
This level of debt not only hampers people's ability to spend, but it could also become a problem for Thailand's banks should loans be defaulted on in large numbers.
With all of these negatives hammering at the Thai economy, and little let up in sight on any of them in coming months likely then, it is difficult to see how the World Bank predicts only an 8.3% contraction of the Thai economy in 2020.
If anything, it is likely to be quite a bit higher before the worldwide panic over Covid-19 ends.
Especially if the Thai government is unable to solve the crisis in the Thai tourism industry. An industry that, along with exports, is the backbone of Thailand's economy.
Remember, however, the World Bank's prediction of an 8.3% contraction in Thailand's economy in 2020 is simply that — a prediction.
As the worldwide situation with Covid-19 continues to change, so will the bank's outlook for Thailand's economy.
We predict it will worsen unless things markedly change, and quickly.