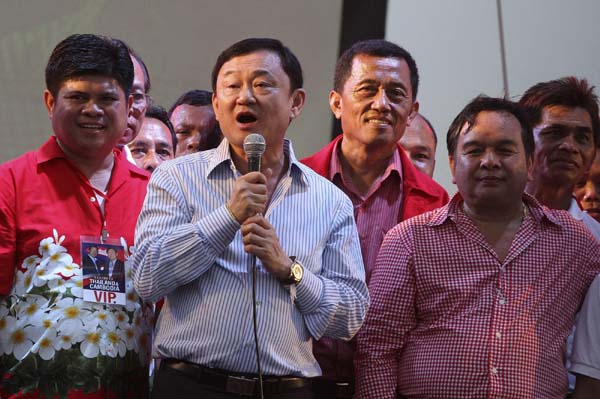 The Thaksin/Red Shirt party in Cambodia for Songkran has been a huge success with thousands of Thais taking a trip to Siem Reap province to see Thaksin and wish him a happy Thai New Year.
Thaksin himself yesterday said "It is an auspicious year and good things should happen. As a Buddhist I try to think about auspicious things," he said, which is now leading Thais to guess that this may be the year Thaksin decides to return to Thailand.
The problem, of course, is that Thailand isn't a particularly safe place for Thaksin at the moment as one of his enemies would likely try to bump him off.
About that, Thaksin said "Sure, I want to return home very much, but I want to come back when I can walk freely on the streets, not just sitting in a bulletproof car."
Meanwhile, Abhisit Vejjajiva the former Thai prime minister has used the Songkran holiday to talk about Thaksin, and to attack the current prime minister and Thaksin's sister, Yingluck Shinawatra saying she hadn't been active enough in her first 9 months in office.
Not surprisingly, however, many Thais don't agree with Abhisit who currently has a lower popularity rating than does Yingluck.