The Marvel Experience Thailand theme park goes bankrupt — too expensive for Thais?
Pretty much anyone that knows how much money the average Thai makes on a daily basis (32o baht) must have laughed when they heard The Marvel Experience Thailand theme park, located at Mega Bagna, was charging 1,500 baht for adults and 1,300 baht for children.
That is the equivalent of $48 for each adult and $41 per child. Or $178 for a family of four — the equivalent of the 17.5 days an average Thai would have to work to be able to afford those kinds of admission fees — just to visit a theme park.
In fact, while few Thais would ever spend that kind of money on a theme park in Thailand, not many non-Thais would pay it either. Not in a country where so many other entertainment options are far cheaper.
That is why this week's news The Marvel Experience Thailand has gone bankrupt , after just seven months of operation, is only a surprise to a few.
The 20,000sqm theme park will close on January 29th, it was announced yesterday.
Comic books not movie franchise
Of course, just like every other new form of entertainment in Bangkok, some Thais did visit it. They then get on Facebook and other social media to report their experience.
The majority that did commented how disappointed they were that The Marvel Experience concentrated on the Marvel comic books, and not on the movie franchise.
Read: Where to buy cheap, cool, unique gifts for kids in Bangkok, Thailand
After all, few Thai kids or their parents are readers of the Marvel comic books yet they are massive fans of Marvel movies. That is why word spread quickly visiting the theme park would not give people the experience they wanted.
Throw in the high admission price,  and it surely should not be a shock to anyone most Thais chose to stay away.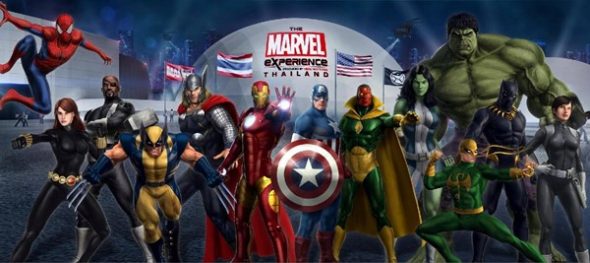 The closure of the The Marvel Experience Thailand
Of course, the backers and shareholders of The Marvel Experience Thailand probably do not want to admit in public how silly of an idea the whole 1 billion baht endeavor actually was, if that was the only admission price that would make the venture economically viable.
That is more than likely why the Facebook message about the theme park's closure simply said this:
The mission to save the world from Hydra at The Marvel Experience Thailand is about to be completed. We would like to thank all you S.H.I.E.L.D. agents who fight alongside Marvel Heroes and helped protect our planet from the villains once again.
Alrighty then!
And yes, it is a shame that an ambitious project like this was not able to make enough money to stay open. Especially as it is an entertainment option many Thai kids would probably have loved to have experienced.
But, come on, when the minimum wage of a country is that low, and a large percentage of Thais only earn that, why on earth would you think the average Thai would be able to afford it?
Meanwhile, if you have bought vouchers for The Marvel Experience Thailand, you can either use them by January 29th, or get a full refund as long as you request it between January 30th and March 31st, 2019.