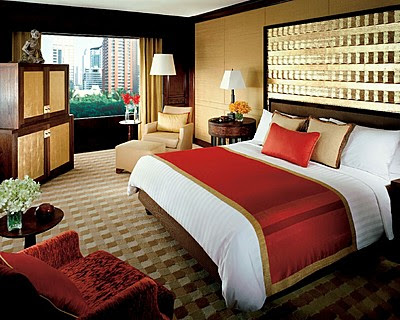 Bangkok, Thailand has some of the world's worst pollution. It also has some of the best hotels.In recent years, some of these hotels have begun transforming themselves into eco-friendly hotels, in an attempt to improve Thailand's air quality and also to help save the environment.
This, of course, is also a good public relations move for them as eco-friendly hotels are becoming very important to many people worldwide. Thailand is now paving the way in South East Asia in the eco-friendly hotels market.
Here are some of the best ones.
The Amari Atrium, Bangkok is in a great location, near the sky train, shopping centers and some fabulous restaurants. It's also one of the hotels in Bangkok making a huge push to be an eco-friendly hotel. The Amari Atrium is now training its staff to conserve energy by reducing the use of electricity and water. They're also looking at the impact a 600 room hotel has on the environment and creating new ways to reduce this environmental impact.
1880 New Petchburi Road, Bangkok 10310 Tel : +66 (0) 2718 2000
The Banyan Tree, Phuket is a luxury 5 star hotel that has been built on the site of an abandoned tin mine. The site at one time was described by the United Nations as a 'toxic wasteland'. The Banyan Tree Hotels and Resorts Group decided to purchase this site and turn what was an ecological disaster into a beautiful hotel that serves thousands of guests every year.
Phuket has been making a huge push in the last few years to build eco-friendly hotels, as they have seen first hand the impact so many visitors can have on the environment.
The Banyan Tree is one more hotel on the island that has gone the eco-friendly route. Their land is now classified as a wildlife sanctuary, as they concentrated on using environmentally appropriate and indigenous plants, which also drew the wildlife of the area.
They also have an interesting program whereby for every $2 that a hotel guest donates to the Green Imperative Fund, The Banyan Tree matches it. The funds raised go to sea turtle rescue, Asian rainforest preservation, and giving poor children an education in Thailand.
21/100 South Sathorn Road, Sathorn, Bangkok 10120 – Tel: +66 2 679 1200
The Four Seasons, Bangkok has focused on four areas of eco-friendly hotel management. Waste management, energy conservation, recycling and employee training. Many of the hotels in Thailand are not too concerned about recycling but The Four Seasons makes sure it is a priority.
Thailand has very good recycling programs and there is no reason why other hotels shouldn't be doing what The Four Seasons is. The hotel has also noticed many employees would like to contribute to an eco-friendly environment, they just don't always know how. This is where The Four Seasons' employee training comes in.
155 Rajadamri Road, Bangkok, 10330 – Tel. 66 (0) 2 250-1000
The Golden Buddha Beach Resort, Koh Phra Tong is one of the oldest eco-friendly hotels in Thailand. Open for more than 16 years, it was built on one of the last unspoiled beaches in Thailand. It's the only resort on the island and was built in a way that it didn't affect the wildlife that come here. Here you can see sea turtles, monkeys and deer – all from your cabin veranda and all undisturbed by development.
They have also limited the building to only 25 rooms, so there aren't hordes of people descending on the island and damaging the environment and disturbing the wildlife.
P.O. Box 4, 131 Moo 2, T.Koh Phra Thong, A. Kuraburi, Phang-nga 82150 – Tel: +66 (0)8 7055 4099 (you get a 10% discount if you book online)
River Kwai Jungle Rafts is an amazing floating hotel in Kanchanaburi, just over an hour north of Bangkok. There is no electricity at the hotel and all the water is treated with a septic tank. The rooms are built on rafts and made of bamboo and traditional matting.
You can ride elephants from here, visit waterfalls, swim in the famous River Kwai or just relax and watch the sunset from your raft room. Tambol Tasao, Amphur Saiyoke, Kanchanaburi
These are just a few of the eco-friendly hotels in Thailand. More are coming every year and soon you will find, to be successful in Thailand, the hotels will have to be eco-friendly.
Some of them do charge more than a similar level hotel, but it's worth it to spend that little bit more, knowing you are preserving the environment for future generations.