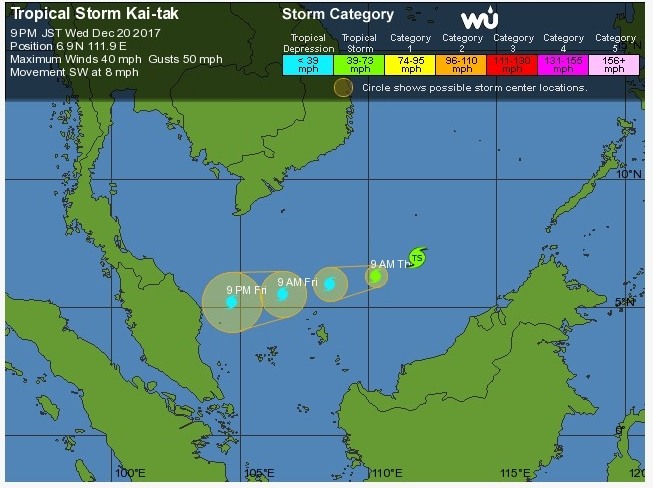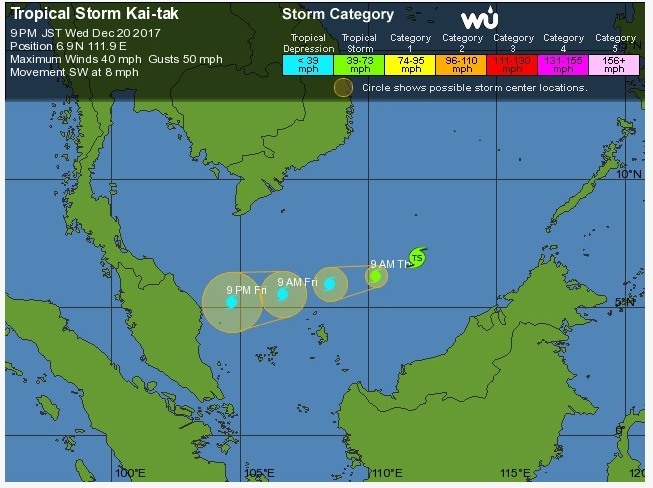 The Thai Meteorological Department is warning Tropical Storm Kai-Tak, which is currently moving towards Malaysia and southern Thailand, could cause flash foods, mudslides and inshore surges in the south of Thailand later this week.
The threat runs through Sunday, December 24th, 2018.
There will also be torrential rain occurring in cities like Trang, Narathiwat, Satun, Yala, Phatthalung, Songkhla and Pattani during this time, with rainfall expected between 100-200 mm.
Wind sheer will cause Kai-Tak to weaken, however, as it makes landfall, so it is not expected southern Thailand will see any damaging winds, although rainfall could cause widespread damage.
Kai-Tak is the same tropical storm that hit the Philippines last week, causing widespread floods and mudslides, as well as several deaths.
In Thailand, people are advised to pay attention to rain and rapidly rising water through the end of Sunday.
Meanwhile, while larger vessels are currently being told to 'proceed with caution', owners of small boats in the area are being advised to stay on shore.
If you are in southern Thailand, stay alert, listen to the radio, watch TV or check the current activity of Tropical Storm Kai-Tak on Weather Underground.
As for other areas in south-east Asia, Kai-Tak is also expected to still be a strong tropical storm early next week, and could possibly slam into southern Vietnam as well.