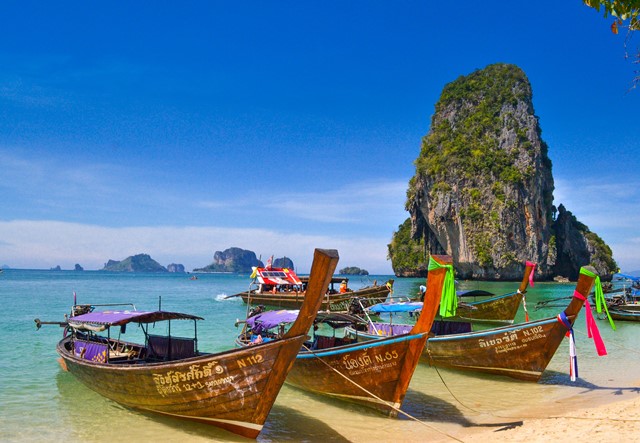 If you would like to move to Thailand, the most important thing you will need to obtain before anything else is a Non-Immigrant visa that will allow you to enter the country correctly and stay here legally.
While most of these Non-Immigrant visas for Thailand can be applied for within Thailand after first arriving on a tourist visa, if you can obtain the correct Non-Immigrant visa before you arrive, getting settled will be all that much faster.
If you want to move to Thailand and work, teach, volunteer, become a monk or retire, these are the different types of Non-Immigrant visas for Thailand and the paperwork you will need to get them.
Types of Non-Immigrant visas when moving to Thailand
As the Thai government has become stricter over the last few years as to who is allowed and not allowed to remain long-term in Thailand, it is more important than ever to obtain the correct Non-Immigrant visa before you move and settle here. (continue reading below…)
How much money will you need to move to Bangkok, Thailand as a single person in 2021 and beyond?
Only a few years ago, it was easy to move to Thailand on a tourist visa and then do 'visa runs' to a neighboring country every three months in order to obtain another few months legal stay in the country.
For instance, I did visa runs every few months for many years when I was a freelance writer in Thailand before the government clamped down on them.
Nowadays, with the Thai government clamping down on long-stayers who do not have the appropriate visas in order to stay long-term, it is vital most people planning on moving to Thailand obtain the correct type of Non-Immigrant visa before they arrive.
Here are the different types of Non-Immigrant visas available to people who want to live in Thailand. Each one is slightly different, depending on your reason for moving here:
Non-Immigrant F (only available for those involved in official duties)
Non-Immigrant B (available for anyone doing business or working in Thailand, including those who move there to teach)
Non-Immigrant ED (the visa you should apply for if you are moving to study the Thai language, taking Muay Thai classes, attending a Thai university or school or on another education course)
Non-Immigrant EX (available for experts and specialists that would be doing jobs usually reserved for Thais)
Non-Immigrant IB/IM (if you will be investing money in the country in a business or property, this is the visa for  you)
Non-Immigrant M (anyone involved in the media, producing films or working as a journalist)
Non-Immigrant O (available if you are visiting family, working with an NGO, going to Thailand for medical treatment)
Non-Immigrant O-A (if you are over the age of 50 and wish to retire in Thailand)
Non-Immigrant R (for missionaries,  or for other religious activities/becoming a monk/studying the Buddhist religion)
Non-Immigrant RS (for researchers and scientists who will be working with Thai organizations)
Non-Immigrant Visa O-X — (Long stay for nationals of 14 countries who wish to remain in Thailand for at least 10 years and are aged over 50)
Paperwork needed to obtain a Non-Immigrant visa in Thailand
While the paperwork needed to get all types of Non-Immigrant visa in Thailand are similar, each category also has specific things you will need to obtain before applying for that particular visa.
The main paperwork every Non-Immigrant visa category in Thailand requires, however, is the following:
A passport with at least 6 months left before the expiration date
A completed application form for the specific Non-Immigrant visa you require
Two recent passport photographs — check the Thai Department of Consular Affairs website before having them taken, as they are quite particular for photo specifications
A recent bank statement (**not usually required for teachers or various other Non-Immigrant B applicants)
Other paperwork for each specific category. You can find out about the updated requirements for each Non-Immigrant visa category on the Thai Department of Consular Affairs' website.
Finally, for an idea of the type of apartment you can rent in Thailand once you get there, check out the article below about a $250 a month apartment in Chiang Mai, Thailand. Nice, eh?
What does a cheap $250 apartment in Chiang Mai, Thailand look like?