With new Covid-19 cases in Bangkok today at 869 out of a 10.59 million population, according to a Centre for Covid-19 Situation Administration (CCSA) briefing earlier today, Bangkok will be designated as a 'dark red zone' as of June 21st, 2021.
That means Thailand's capital city has the strictest Covid-19 restrictions compared to other cities in the south east Asian country.
What are the Covid-19 restrictions in Bangkok in June, 2021 then compared to other cities in Thailand, and how long are they likely to continue?
Covid-19 restrictions in Bangkok in June, 2021
As of Monday, June 21st, the CCSA has Bangkok designated as a 'dark red zone' due to what it deems its high number of new Covid-19 cases.
That means Bangkok, along with its the three adjoining provinces — Nonthaburi, Pathum Thani and Samut Prakan — will be categorized as dark red zones until new case numbers fall.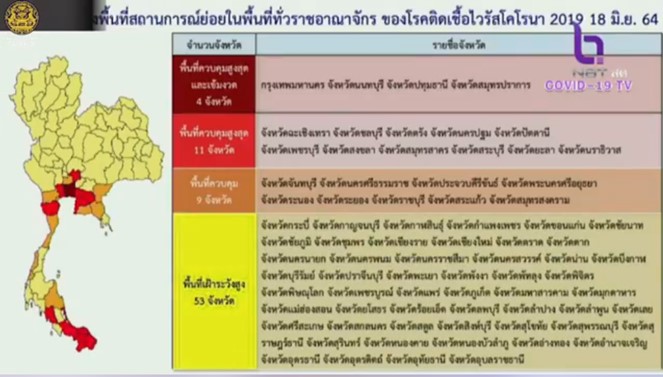 The restrictions in any dark red zone area are as follows:
Activities involving more than 50 people are banned.
Air-conditioned restaurants can serve dining-in customers to a maximum 50% of capacity and remain open until 11pm.
The sale of alcohol is prohibited anywhere on the premises.
Department stores/shopping area must close at 9pm.
Outdoor sports fields and well-ventilated sports facilities can open, but spectators are not allowed.
Schools must remain closed with distance learning in effective for all students.
In areas of Thailand that are not designated 'dark red zones', a higher number of people are allowed to participate in activities, restaurants can serve to full capacity, but alcohol is still banned.
Schools can also open, and sporting events are allowed to have a low number of spectators.
In the lowest zoned area — the so-called 'yellow zone' — crowd activities are limited to 200 people, shops, restaurants, department stores operate as normal and schools are open.
Unlike in the United States and most areas of Europe, masks must still be worn both indoors (except homes) and outdoors everywhere in Thailand.
A definite deterrent for anyone considering vacationing in the 'Phuket sandbox' beginning on July 1st, or anywhere else in Thailand as other places open up but masks remain mandatory.