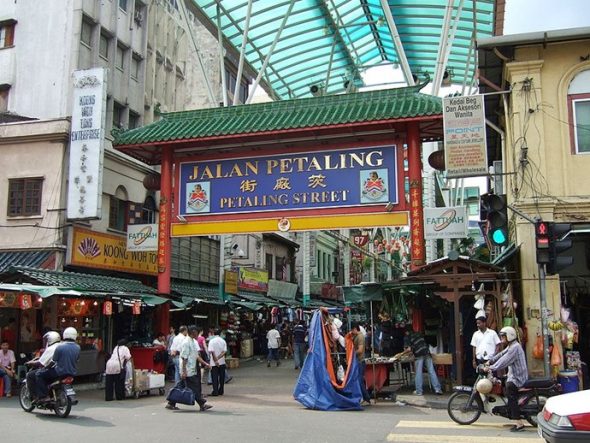 Living in Thailand, I travel often to Kuala Lumpur, Malaysia as it is only a short flight and is very cheap to get there. Every time I am in Kuala Lumpur (known as KL) I visit the Jalan Petaling street market in Chinatown.
Prices are cheap and selection of products is excellent. Plus, it is held every day so it is convenient too.
If you are planning on being in KL and like cheap shopping, make sure you visit the Jalan Petaling street market. The market opens in the early afternoon and closes down late at night.
Just remember, bargain for everything you want and bargain hard. Malaysian sellers will expect you to bargain just like the locals do so, if you don't, you will find yourself paying a much higher price than necessary.
If you're not sure what to buy though, check out the following things – they are all cheap and excellent quality and unusual too.
Buying Bags and Suitcases at Jalan Petaling Market – One thing I love about the Jalan Petaling market is the huge selection of bags and suitcases. I am a bag freak and will buy a new bag before I will buy anything else.
The last time I was in Kuala Lumpur I bought three bags at Jalan Petaling, all three were less than $6 each and all beautiful quality and very fashionable. I have also bought a suitcase here as they have everything from the soft-sided cases on wheels to the hard plastic suitcases that you could practically run over with a car and they won't break.
Prices start at around $15 for the soft-sided bags and go up from there.
Buying Clothing at Jalan Petaling Market – One of the best things to buy at Jalan Petaling street market is clothing. There are stalls that sell t shirts, shirts, jeans, pants, shorts, dresses, shoes, belts – pretty much anything you can think of. Prices are very good (around $3 for a t shirt, $6 for a pair of shorts) and you will find pretty much any kind of style you are looking for.
Related: How to find the best cheap hotels in Kuala Lumpur, Malaysia?
Of course, you will also see the counterfeit or fake designer clothing on many of the stalls but, that is up to you if you buy it or not.
Buying Music at Jalan Petaling Market – The market is also a wonderful place to buy CDs or discs full of MP3 files of music.
Some of the music is bootleg, but I tend to buy the genuine CDs of popular Malaysian singers as they are not readily available in Thailand.
At most of the stalls, the owner will also have a CD player so you can often listen to part of the disc before deciding whether to buy or not. Prices start at $4 per disc.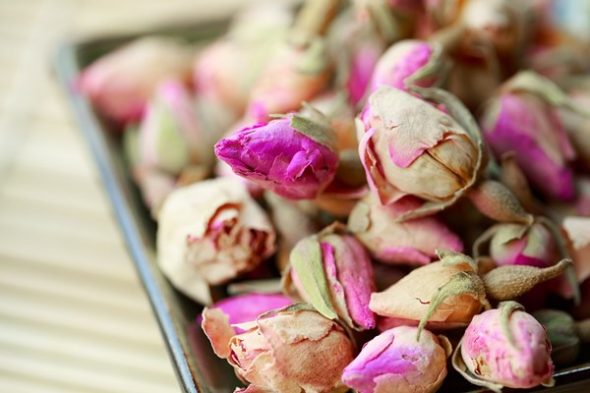 Chinese Herbs – If you are looking for Chinese herbs for cooking or for medicinal purposes, you will find stalls selling them at Jalan Petaling market.
Related: How to see Kuala Lumpur on a budget — enjoy this amazing city for less than $25 a day
The great thing about Kuala Lumpur too is that the stall sellers all speak English (unlike Thailand, where they rarely do) so, if you are not sure if you are buying the correct thing, the seller will be able to tell you what the herb is used for and how much you will need.
Buying Toys at Jalan Petaling Market – If you have children with you or children to buy gifts for, this is a good place to buy toys. Several stalls sell modern toys as well as sometimes the traditional Malaysian toys, which are unusual gifts to take home to any kid.
Prices for any type of toy are much cheaper than in toy stores, and the quality is exactly the same.
Food at Jalan Petaling Street Market – Another cool thing about shopping here is the array of food you can buy. There is everything from stalls that have outdoor seating so you can sit, grab a beer, eat some food and watch the crowds walk by, to street stalls where you can buy something on a stick and eat it while walking around.
Many Chinese and Malaysian delicacies are available here and they are cheap, so try a few things you have not eaten before.
Many of the restaurants on this street also serve good food, especially the seafood, which is cheaper than just about anywhere in the west. I love eating here at night as the market is crowded, so sitting at a sidewalk restaurant is a cool way of watching both tourists and Malaysians alike.
When you are at Jalan Petaling market, don't forget to check out the regular shops in the area too. They all stay open late into the night and have bargains just like the street market does. The shops are also less crowded and some are air conditioned so they can be a good place to get away from the push of the street market.
Jalan Petaling street market is a wonderful place to shop not just for the cheap things but also for the atmosphere. Just make sure you watch your bag and wallet as it does get amazingly crowded, especially after 5pm. Other than that, shop away and have fun.