What are the best foods to eat in Bangkok's Chinatown?
Whenever I want to eat amazing ethnic food in Bangkok, and do not want to spend a huge amount of money, I tend to avoid the typical Korean, Japanese and Chinese restaurants and head to Bangkok's Chinatown instead.
Known by the Thais as Yaowarat, and famous for serving some of the most delicious food in Bangkok, Chinatown is popular for its authentic Chinese food, affordable seafood, and tasty and cheap street food.
A first-time visit to find something to eat in Bangkok's Chinatown can be overwhelming, however.
After all, with thousands of street food stalls, hundreds of shop-house restaurants and even more night-time pavement tables suddenly appearing all over Chinatown, how are you supposed to know where and what to eat?
Look for these famous foods in Chinatown, and you will find some of the best the area has to offer.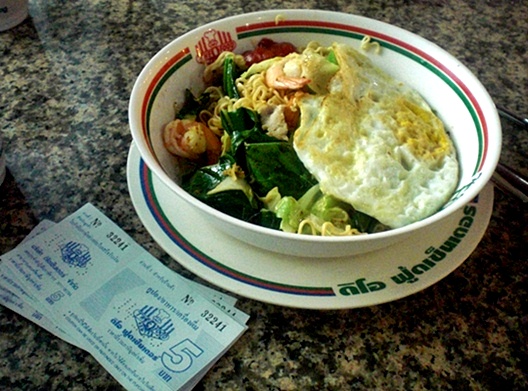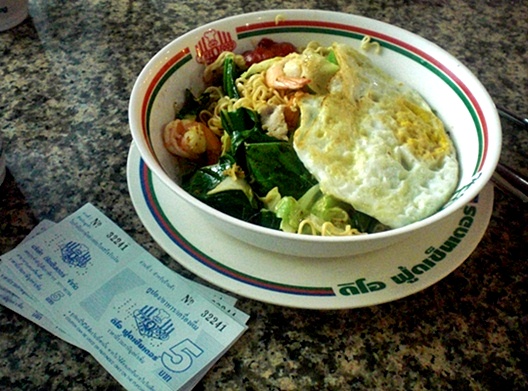 Steamed Rice Noodles with Toppings
You will find rice noodles aplenty all over Chinatown, with hundreds of different toppings to choose to make them even tastier.
Squid, marinated pork, shrimp balls, fish balls, wantons and liver are all popular toppings.  You can even add a fried egg if you like.
A bowl of steamed rice noodles with a topping will cost around 50 baht, so this meal is delicious and cheap.
Check out Art Thomya's Must Eats in Bangkok's Chinatown video below for the amazing steamed rice noodles with squid he and his Chinese friends ate. Along with nine other foods he recommends you try in Chinatown.

Fish Maw Soup
The Chinese believe Fish Maw Soup improves your skin, as it is full of collagen.
Fish Maw Soup in Chinatown is usually served with rice, along with a plate of vegetables like spring onions, coriander, mushrooms and bean sprouts.
It will often arrive boiling hot, so you may have to wait for it to cool down before you try a taste.
Be warned, the occasional stall will say they are serving Fish Maw Soup when in reality it is just a cheap fish that has been soaked in hydrogen peroxide and sulphur until it takes on the texture of fish maw.
That is why you should always make sure the fish maw you are going to be served is a golden yellow color.
The cost per dish for genuine Fish Maw Soup in Bangkok's Chinatown is usually between 40 and 60 baht. So it is still extremely affordable.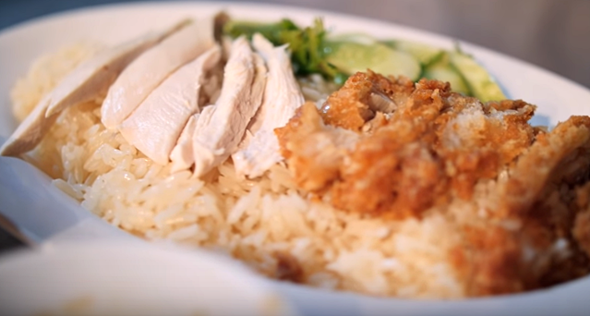 Chicken with Rice
This is either boiled chicken, fried chicken or a mix of the two. Most Thais will buy a mix, as the two different textures and flavors are wonderful together with the rice.
The dish comes with a delicious sauce made from soy sauce, garlic, chillis, sugar and lime. A side of sliced cucumbers usually also comes with each plate.
50 to 60 baht will usually get you a large portion of two types of chicken and rice.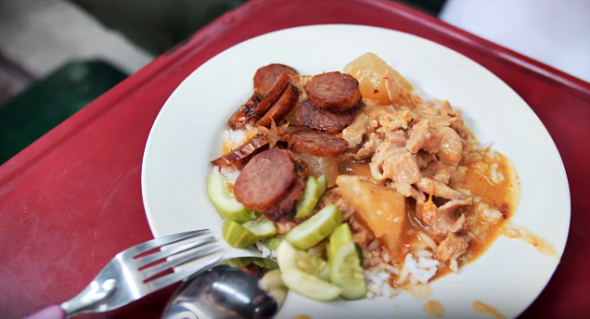 Curry and Rice
Another food that is a must eat in Bangkok's Chinatown is curry and rice. With various types on offer, and with some famous curry shops that specialize in only that dish, it is easy to find some of the best curry and rice in Thailand here.
Khao Gaeng Jake Puey is probably the most famous curry stall in Chinatown, and it serves the most amazing pork curry with coconut milk, pork ribs, fish, fish balls and stir-fried crab among many other curry toppings.
A typical plate of curry and rice here will run you around 60 baht.
Don't expect a table here, though, as plastic stools are the only place to sit. Then you get to balance your curry and rice on your knee as you eat.
Steamed Prawns with Glass Noodles
Chinatown is famous for its seafood, much of which is incredibly fresh and inexpensive for the large portions you get.
One favorite of many local residents when they eat at Bangkok's Chinatown is Steamed Prawns with Glass Noodles.
The glass noodles are usually tossed with soy sauce before being cooked, so they have a lovely dark color to them. The shrimp, of course, is also soaked in a sauce made soy sauce, oyster sauce, sesame oil, chicken stock, garlic and other spices before being stir-fried.
Each stall and restaurant in Chinatown will usually have a different sauce recipe, so you can definitely eat this tasty dish more than once.
A plate of shrimp with glass noodles is usually priced between 100 to 120 baht, but do not be surprised if the shrimp are huge and you are served a large portion.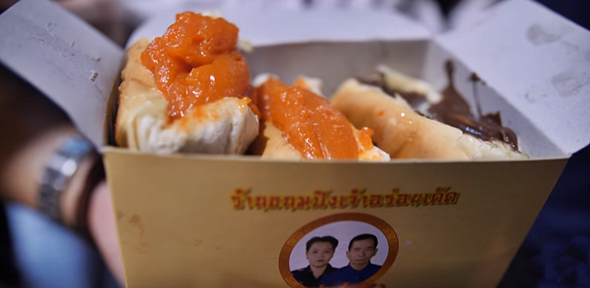 Stuffed Bread
Stuffed bread buns are popular all over Bangkok, but especially in Chinatown where several stalls specialize in them.
These buns are usually eaten as a snack or a dessert, as they are stuffed with warm fillings like chocolate, pandan and coconut jam — also called kaya.
Each bun will cost between 15 and 20 baht, and expect them to ooze the filling all over your hands as they really are stuffed full of the stuff.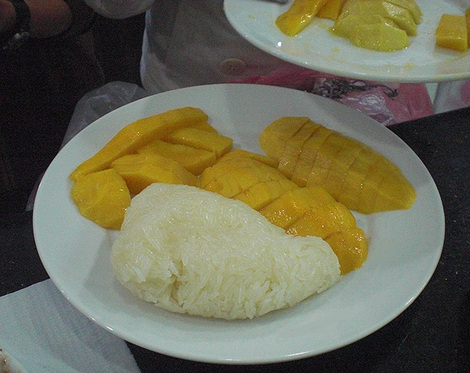 Mango and Sticky Rice 
While technically a  traditional dish from Thailand, Vietnam, Cambodia and Laos, you will still find mango and sticky rice being served at street stalls and in shop-house restaurants all over Chinatown.
If you are looking for something sweet, filling and simple, you must eat a portion of this.  After all, it is nothing more than a large piece of fresh, sweet, juicy mango served with glutinous rice and sweetened with coconut milk and sugar.
A typical plate of mango and sticky rice will cost between 50 and 100 baht, depending on the stall/restaurant and the size of the portion.
For more recommendations for the best food to eat in Bangkok's Chinatown, check out Mark Wiens Ultimate Chinatown Bangkok Tour video below.
Related: Best and cheapest things to buy in Bangkok's Chinatown
A video tour of Yaowarat — Bangkok's Chinatown — check it out before you visit
Chinatown is the place for Bangkok's best food and cheapest shopping