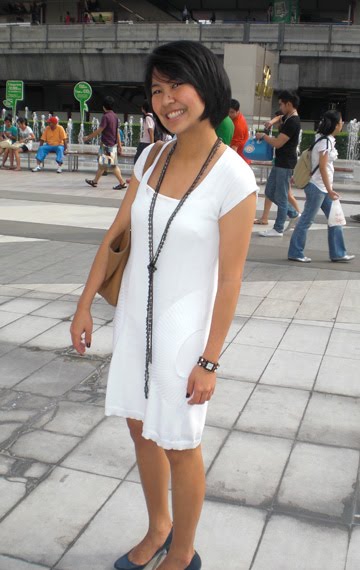 Many western women are now coming to Thailand on business. Other western women live in Thailand and work in offices, large and small companies, and hotels. For those of us who live in Thailand, figuring out the business dress code is easy. For western women who haven't been here though, it's a whole different story.
Western women coming to Thailand on business for the first time seem to fall into one of two categories. Either, they think Thailand is still in the 18th century and dress accordingly. Or, in major cities like Bangkok, they seem to think there's a beach and walk around in clothing that's barely appropriate for sunbathing let alone for business in a world-class city.
If you are one of those western women who doesn't know what she should wear for business in Thailand, there is a dress code. Bangkok is a cosmopolitan city so it's easier to dress for. Out of Bangkok is more difficult as it's a lot more conservative. But, iIt's not that difficult to figure out really. Just read these few dress code tips for Thailand, and you'll be just fine.

You Don't Need to Wear Hose – First of all, most western women are thrilled to find out they don't actually have to wear panty hose. As Thailand hovers, year-round, in the high 90s, the thought of hot, restrictive panty hose really does turn western women off.
In actual fact, you will see few Thai women wearing panty hose and, even Thai women who are kitted out in full business suit are unlikely to wear them. So, feel free to walk around bare-legged. Believe me, you'll be a lot more comfortable that way.
Thailand Dress Code for Business Jackets – The dress code for women for business jackets or business suits in Thailand is usually quite conservative. You'll see a lot of greys, blacks and navy blues with some white or off-white suits thrown in. However, times are changing so styles of business jacket are changing too.
I work in the offices of a large international company and even I have a business jacket that is black and white striped. Completely acceptable for work.
Thailand Dress Code for Business Shirts – In Bangkok, you will see some Thai (and western women) wearing sleeveless business shirts. Overall though, this really isn't acceptable. To fit the
correct dress code for business in Thailand, you should be wearing a business shirt that has sleeves to at least just above the elbow, with many women wearing long-sleeved shirts. This, however, is not a necessity. Color-wise, pretty much anything goes.
You can wear white, an understated blue or a bright crimson – Thai women wear everything. The only colored shirt that doesn't seem to be worn much is red, and that's because it's a Chinese color that is only worn for specific purposes.

Thailand Dress Code for Business Skirts – If you are planning on wearing a business skirt (or as part of a business suit), make sure the skirt falls at least at knee-length. Yes, in Bangkok, you will see young Thai business women wearing short skirts but, again, it's still not really acceptable.
Wear a more conservative length, and you'll be treated much more like a professional business woman.

Thailand Dress Code for Pants – Most Thai women will not wear pants as part of a business suit, although a lot of the younger set do now.
I don't wear them, simply because Thailand is too darn hot and I find skirts to be cooler to wear. It's probably best not to wear pants, especially to a job interview or in your first few days on a new job, until you can figure out what's acceptable in that company.
Thailand Dress Code for Shoes – In business in Thailand, many women will wear full dress shoes with a suit. Sandals can be worn but should usually have a strap at the back, and not the high-heeled flip flop types popular in western countries.
However, having said that, in Bangkok now a lot of Thai business women wear backless sandals. It's probably just best not to do that if you're out in the boonies, where things tend to be much more conservative than in the nation's capital.
Accessories – Thai women love jewelry and wear quite a lot of it. Large, clunky necklaces and rings actually seem to be acceptable in Thailand for business wear, if the women I see every day are anything to go by.
For belts, narrow or wide, subdued colors or more colorful, in Bangkok at least, anything goes.
For purses or handbags, you will see that Thai women (and western women) carry any type of bag imaginable in the business world. From large, clunky, fashionable leather bags in subdued or bright colors, to conservative briefcases, flashy fashion totes, and fluorescent green plastic handbags, anything goes.
Just make sure you have a few of them as Thai women like to have their bags matching their outfits, and you don't want to look like a fuddy duddy.
Bras – Thai women always wear bras, and going braless in Thailand, even in Bangkok, is just not acceptable. Also, padded bras are a must as no self-respecting Thai girl will ever have her nipples on show, and nobody wants to see yours either.
Overall, remember, in Thailand if you are not sure if it's appropriate, err on the side of caution and wear something that's less fashionable. Stay away from short skirts and revealing tops, and wear comfortable yet professional looking shoes, and seriously, you'll be fine.
Oh and always wear a padded bra. Because prominent nipples are never in style in Thailand.