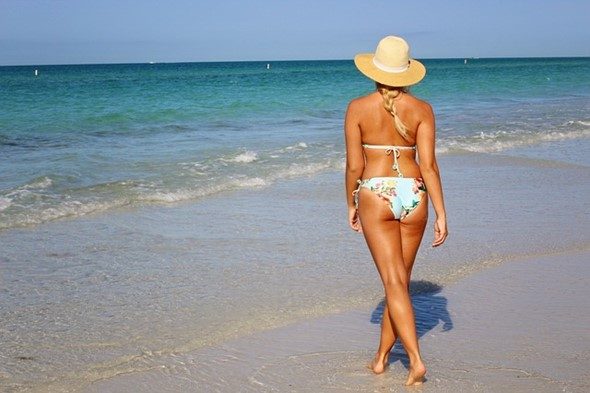 On a trip to Bangkok, Thailand you may decide you don't need to pack a swimsuit. After all, Bangkok is a chaotic city, so why would you ever need a swimsuit? Then, you get here, it's boiling hot, your hotel has a beautiful pool and there is a beach only an hour and a half away on the bus.
Suddenly, you wish you'd packed that bikini or bathing suit. But, never fear. Bangkok is one of the cheapest places in the world to buy swimsuits, bikinis, swim trunks and bathing suits for men, women and children, and these shops are the cheapest ones to shop at.
Bobae Tower and Bobae Market – One of the cheapest places in Bangkok for any type of clothing, Bobae Tower and Market is a wonderful place to find cheap swimsuits and swimwear. Bobae is actually a wholesale market, so most people are buyers who are purchasing for stores and market stalls and buy in bulk. You can however buy one or two items, particularly in Bobae Tower, and the prices will still be cheap.
At Bobae Tower, you will find European-style bikinis and swimsuits, short shorts, swim skirts and bikini wraps, sarongs, men's and boys swimming trunks, kids' bathing suits and a whole lot more. Expect to pay under $10 for a bikini or swimsuit and, of course, if you buy more than one the price will come down.
Bobae is a particularly good place for westerners to buy swimwear as most of what is sold is made for the export market. If however you buy where Thai girls shop, unless you are a woman who is smaller than a size 6 with no boobs, or a man shorter than 5ft 8in and slender in build, it's unlikely anything will fit you.
Pratunam Market/Baiyoke Tower – Another wholesale market with clothing for export, Pratunam Market has literally thousands of small shops and stalls selling clothing and a fair number sell swimwear. At Pratunam if you buy one piece the price is around the same as any normal Bangkok market but, buy two, three or more and the price comes way down.
Again, an average price per swimsuit, bikini, swimskirt etc. will be between $5-$6 and don't forget to bargain.
Related: Where are the cheapest places to shop in the Pratunam Market area?
Once you've finished in Pratunam Market, head to the back and out in the street then into Baiyoke Tower, where you'll find another six floors of wholesale clothes and, yes, boatloads of cheap swimwear.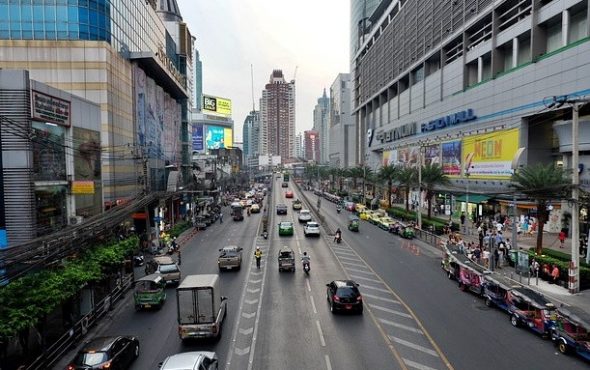 Platinum Mall – Close to Pratunam Market, Platinum Mall is another massive mall devoted to clothing, shoes, bags, jewelry and makeup and it's huge. Just like Pratunam, Bobae and Baiyoke Tower, you'll get the best deals at Platinum Mall if you buy more than one item at the same swimwear stall.
Don't worry though, the items you buy don't have to be all the same. You can buy a red bikini for you, a pair of blue Speedos (fake, of course) for your husband, and some shorts for little Jenny, then bargain and the price will come down on all three.
Related: Platinum Fashion Mall is one of the cheapest places in Bangkok to buy clothes
Again, at Platinum Mall, you'll find trendy bikinis, conservative swimsuits, short bikini wraps, ankle-length sarongs – just about any type of beachwear out there, and at prices that, at some stalls, are as cheap as $5 a piece. Platinum is also a great place for men's and boy's swimwear.

Chatuchak Market – South east Asia's largest outdoor market, Chatuchak Weekend Market is open on Friday evenings, Saturdays and Sundays, has more than 15,000 stalls many of which sell clothes and swimwear is a big part of that.
The market is a bit difficult to navigate as there is just so much to see, but walk around and, if you find one of the many swimwear stalls, buy what you like as the market is so big you'll never find it again.
At Chatuchak, you will also find a vast number of independent young Thai designers, so if you are looking for swimwear that's more unusual, this is the place.
Also, don't miss checking out Chatuchak Mall, which is located behind Chatuchak Weekend Market. It's open seven days a week, is air conditioned (unlike the market), and has several excellent swimsuit stalls.
Check out the cute video by Thai vlogger FahFah below — she is at the Friday night Chatuchak Market (same place as the weekend market), so you can get an idea of just how fabulous it is. Hit the subtitles button at the bottom of the video for English subs.