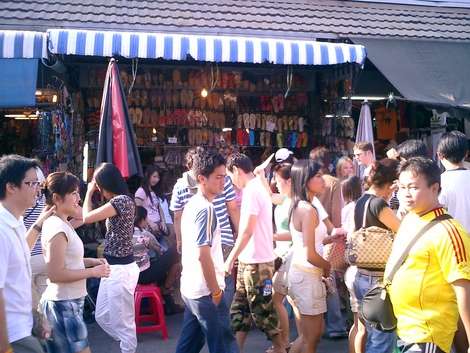 One of the best things about visiting or living in Thailand is the availability of  inexpensive yet gorgeous Thai handicrafts. Thailand has some of the most beautiful handicrafts in the world with gorgeous quality products and a variety I haven't seen in any other country.
It's possible to buy Thai handicrafts all over Thailand, of course, but in Bangkok there are specific places to buy Thai handicrafts that are better than others.
If you live in Bangkok, Thailand, or plan on visiting make sure you check out these wonderful handicraft shops, where you'll find lovely Thai products at inexpensive prices.
Chatuchak Market – Also known as 'Jatujak' by Thais, Chatuchak Market is the enormous weekend market in Bangkok. With more than 13,000 stalls it's easily the best place in the country to buy Thai handicrafts. At Chatuchak you'll find Thai silk, hand-carved wooden furniture, traditional Thai clothing, paper and wood lanterns, lamps, pottery, leather, basketware, hand-embroidered linen, fabric toys, cushion covers and so much more.
Many of the Thai handicrafts at Chatuchak are cheap and, if you remember to bargain or buy more than one item, you'll get an even cheaper price. There are also shipping companies at the market so, if you buy too much, they will pack it up and ship it home for you so there's no excuse not to shop. Take the sky train and get off at Mo Chit station to get to Chatuchak.
Doi Tung Development Project (Coffee Shops) – A development project set up by Her Royal Highness, the Princess Mother, Doi Tung now has coffee shops all over Bangkok. Most of these shops not only sell coffee and tea and all the associated products, but they also have a wonderful selection of high-quality Thai handicrafts. I've purchased floor rugs, hand-crafted bags, key rings and lamps there.
They also sell curtains, slippers, soaps and hand cream, silk clothing, hand-made paper products and cushion covers. My favorite Doi Tung shop is at Bonne Marche market on Prachaniwet 1 in north Bangkok, but there are several others scattered around Bangkok to check out.
Suan Lum Night Bazaar – Another wonderful place to purchase Thai handicrafts is the Suan Lum Night Bazaar. Open from around 4pm to 11pm every night, Suan Lum sells Thai handicrafts such as hand-carved wood, tuk-tuk models made out of beer and coke cans, cushion covers, tablecloths, curtains, lamps, Thai silk, slippers, bathmats, clothing, silver jewelry, baskets, hand made paper products – pretty much every Thai handicraft imaginable.
Suan Lum is fun too because there's an enormous food court and beer garden with live music, as well as many other restaurants, a Doi Tung coffee shop and the Joe Louis Puppet Theatre. Suan Lum is easily accessible from the Lumphini underground train station.
Silom Village – I love Silom Village in Bangkok. It's on Silom Road, which is incredibly busy, but as soon as you walk through the passageway and into Silom Village it's like the busy street doesn't exist. There are lots of little shops all the way around the 'village' and, in the middle an open-air restaurant area. Here you can get Thai-style food and, with the pretty ponds full of fish, and lots of greenery it's a lovely place for dinner.
The shops sell Thai handicrafts like Thai silk scarves, shawls and traditional clothing, jewelry, silk, carved wooden handicrafts, jade bracelets, amulets, Thai art and lots more. Silom Village prices are higher than in other places as it's more targeted to tourists than local Thais but, if you bargain, you can get the price to come down.
Silom Village also sells products I haven't seen anywhere else so it's often fun to shop here even if you do pay a little more. Silom Village is at 286 Silom Road, but is easy to get to from Surasak sky train station.
For other places to buy Thai handicrafts, check out River City on the Chao Praya River (more high-end crafts but especially good for Thai antiques), Siam Paragon mall has an enormous Thai handicrafts section (again, high-end but gorgeous!), and all the Central Department Stores as they have Thai handicraft departments.