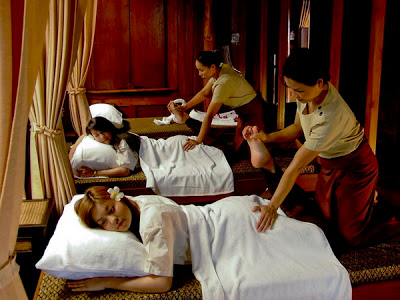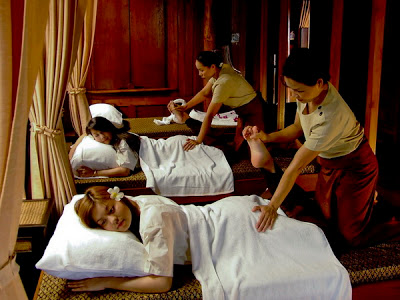 If you're planning a pampering spa treatment while you're in Thailand, look no further than one of these incredible Chiang Mai spas. With world-class spa treatments, gorgeous locations and superb customer service, you'll feel like royalty at one of these best Chiang Mai spas.
Four Seasons Spa and Resort, Chiang Mai – For the king of all spas, why not try the Four Seasons Spa and Resort in Chiang Mai? It's a world-class spa that offers facial treatments, massages, traditional Thai therapies (unbelievable body wraps, scrubs, an oil massages), chakra alignment, internal organ massage, yoga and reiki. Prices are very high here (around $150 and up per treatment) but the Four Seasons Spa truly is at the pinnacle of spas.
Located in the Mae Rim Valley, overlooking rice paddies and mountains, the beauty of this place is phenomenal and the service incredible. Mae Rim-Samoeng Old Road, Mae Rim,Chiang Mai
Chur Medical Spa, Chiang Mai – Chur Medical Spa is perfect for those who are more budget-minded. It's right in the center of Chiang Mai, with owners who have studied Western medicine and Chinese alternative treatments with a concentration on medical herbs and herb treatments. They offer one-hour cellulite treatments, reflexology, massages, relaxation and body firming. They also have packages for specific treatments which, if you are able to go a few times, drastically reduces the cost of each treatment.
Chur Medical Spa even has their own line of beaty creams and products, using all natural products. – 4 Fl. Sakda Polyclinic 265 Changmoi Rd. Chiang Mai 
Angsana Spa Green View – Chiang Mai – Angsana Spa is a day spa in Chiang Mai that offers treatments in open air pavilions or in private treatment rooms. Next to a golf course, Angsana's atmosphere is tranquil and relaxing. The spa offers treatments like mud body wraps, fruit scrubs, Thai massage, cucumber cleansing facials, tomato body wraps, European cleansing facials and lots more. Here you can relax in an open air pavilion while a masseuse gives you one of the best Thai massages you've ever had.
Prices are low for what you get (average around $100 for a 3 or 4 treatment package), although Thai massages are quite expensive at $50-plus per massage when, anywhere in Chiang Mai, you can get a Thai massage for less than $8. The surroundings though really are lovely, and the staff is highly trained and very attentive.
183/ 1, Chotana Road Mae Sa-Mae Rim, Chiang Mai
The Healing Rishi Spa, Chiang Mai – With a name like that, you just have to try The Healing Rishi Spa. The spa is in gorgeous gardens on more than six acres and is especially famous for their weight loss programs. They also offer Thai massage, fruit body wraps, and facials.
You can even stay overnight in one of their delightful bungalows but, if you only want to stay the day, the nice thing about The Healing Rishi Spa is they will also come and pick you up and take you back to any location in Chiang Mai city. The staff especially is lovely here and for a relaxing environment, you can't do any better.
Spas are all over Chiang Mai from tiny little shops that just offer two or three treatments to enormous spa resorts with a hundred spa treatments and packages and at many different price ranges. Don't forget though, even the very high-end spas still tend to be much cheaper than their Western counterparts and with service that is just about impossible to find in the west.
And, of course, while you're in Chiang Mai, don't miss doing some shopping as it really is one of the best places in Thailand to shop. Here are just a few of the best things to buy in Chiang Mai to help get you started.