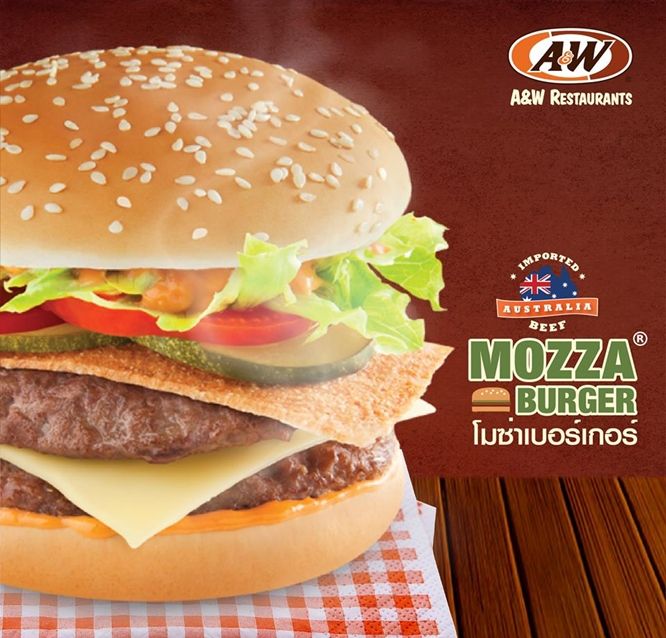 Are A&W's Mozza Burgers in Bangkok worth the price, and are they tasty?
In the 14 years I've lived in Bangkok, I can honestly say I have eaten at western fast food restaurants no more than 20 times. In most cases when I do, I visit A&W.
That's because not only are prices at A&W in Bangkok affordable, but the food they serve is some of the most 'western tasting' in Thailand. Frankly, it's delicious.
One of my favorite choices at A&W in Bangkok is their Mozza Burger, which you can choose either as a beef or pork option. Or, to be more precise, A&W's Mozza Burger set meal, as it comes with curly fries and a drink. An excellent deal at 179 baht, as it is filling.
I particularly enjoy the burger patties A&W uses in Bangkok as, instead of one large thick one, you get two thinner ones. That allows the meat to cook inside the patty a little bit more, and for the surfaces of each patty to be seared and slightly crisp.
A&W's curly fries are also incredibly tasty and, if you go for the restaurant's root beer option, you really could almost be back in America the taste is so close to the same.
As usual, EatSleepBangkok has created an excellent video that shows you exactly what you can expect if you buy the Mozza Burger set meal at A&W in Bangkok. And yes, like me, he thinks the meal is good value for money. (Although I disagree with him on the curly fries — they are delicious).
Watch it below, and then subscribe to his YouTube channel.
You will find A&W locations all over Bangkok. Check out their website for the one closest to you. And, don't forget, they also deliver.