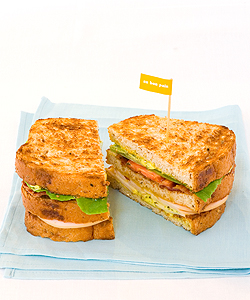 One of my favorite quickie restaurants in Bangkok, Thailand is Au Bon Pain. An American eatery, they have more than 30 restaurants in Bangkok and five more outside Bangkok. Au Bon Pain is very popular in Bangkok. On weekends it's almost impossible to get a seat at most of the downtown locations and, even in the Au Bon Pain restaurants out of the town centre, it's still busy.
I love Au Bon Pain because the food is great (always fresh!), the staff are nice, the restaurant locations are convenient and the prices (although very high for Thailand) are not too bad for most Westerners. I eat at Au Bon Pain at least seven or eight times a month and have rarely been disappointed with the food.

All Au Bon Pain restaurants in Bangkok serve breakfast. They also open a lot earlier than most other restaurants (around 6:30am), which is fabulous if you have an early business meeting. A lot of Thai and Western businessmen and women meet at Au Bon Pain early in the morning for business meetings.
For breakfast, they have fresh muffins (my favorite are the Chocolate Muffins – too die for!), Bagel Egg and Bacon Sandwiches (scrumptious!), Croissant Egg Sandwiches, Sausage Croissant Sandwiches, Bagels (with all the usual fillings), and lots of other pastries. Prices range from 45 baht for a muffin (about $1.25) all the way up to 100 baht ($3) for a stuffed croissant sandwich. They often do specials though, where you can get a croissant or bagel breakfast sandwich and coffee for around 100 baht ($3), which is a great deal.
For lunch at Au Bon Pain in Bangkok, I recommend the Clam Chowder Soup in a Bread Bowl (my absolutely most favorite thing on the menu, and something I eat several times a month). They also have other soups to choose from and they're very filling, especially if you eat the whole bread bowl.
Au Bon Pain in Bangkok also serves excellent sandwiches, made fresh while you wait. My favorite sandwich is the California Chicken sandwich (on toasted French bread), or the Chicken Club (which is huge and very messy as it's dripping with delicious Bearnaise Sauce). They also make fresh wraps (the Chicken Salsa one is awesome) and toasted bagels with cream cheese and salmon.
For the health conscious or for someone on a diet, Au Bon Pain also has ready-made salads with several choices of salad dressing. I usually get the Chef Salad (comes in a handy plastic container ready to grab from the iced section of the restaurant) with the Low Calorie Italian Dressing (yummy!). They also have a heart healthy menu with bagels, sandwiches and salads for people who need specific foods to keep their heart in top-top condition.
If you're not health conscious, Au Bon Pain in Bangkok has great desserts. A lot of Western-style restaurants in Bangkok have great-looking desserts but, when tasting them, you find out they're not that good. Au Bon Pain on the other hand has desserts that taste as good as they look. I like the Pecan Rolls, the Brownies, and the Oatmeal Raisin Cookies. You can also get a fresh fruit Smoothie for dessert or, if you want an iced drink, Au Bon Pain makes delicious lattes, Frozen Mocha Blasts, Frozen Vanilla Creams and many other frozen drinks. Their lattes are delicious, come in two sizes, and are almost $1 cheaper than equivalent lattes at Starbucks in Bangkok.
The other great thing about Au Bon Pain is the quickness of the service. You order at the counter and pay and, usually within five minutes, one of the counter staff is bringing your food to your table, made fresh and piping hot.
Au Bon Pain in Bangkok does also deliver anything on their menu (and quickly!) and they do cater if you have a special event, business lunch or dinner, wedding or party.
So, if you're looking for a fast breakfast, lunch or dinner in Bangkok for a great price and in a good location, any of the 30 Bangkok Au Bon Pain locations should satisfy you. Good food, nice staff, great locations, and a lot of choice on the menu. What more could you want?