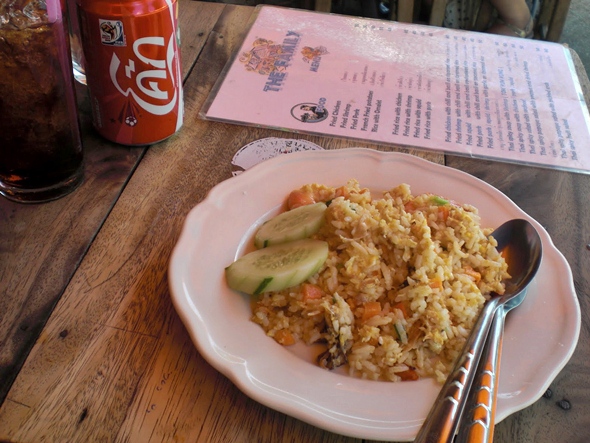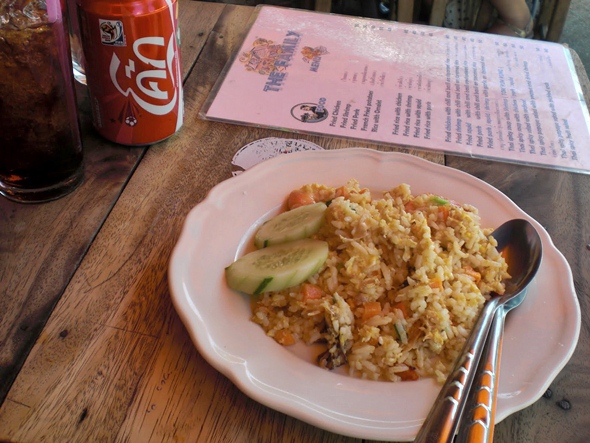 There is a small outdoor restaurant at Chatuchak Weekend Market which, I swear, makes the best fried rice in Bangkok. They have a choice of shrimp, chicken or pork fried rice and for 40 baht ($1.25), you get a big plateful. Lunch today for me was 60 baht ($1.85) for the fried rice and a can of coke. Cheap, eh?
Normally, I have the chicken or pork fried rice but, today, I went for shrimp. The plate you see included five large shrimp, perfectly cooked, plus shrimp meat and some crab mixed in with the rice. Fried rice is such a simple dish but, to make it perfectly is an art.
The taste of this fried rice is strong, very shrimpy, with the rice soft and very slightly moist and the veggies a little crisp. In other words, perfect.
If you go to Chatuchak and love shrimp fried rice, this restaurant is on the left hand side of the main circular roadway a few hundred meters down from the main gate, if you are walking down the market with Pahonyothin Road on your right.
It is located almost at one of the roadway's curves, just opposite a Western jeans shop. Look for it. You will love it.