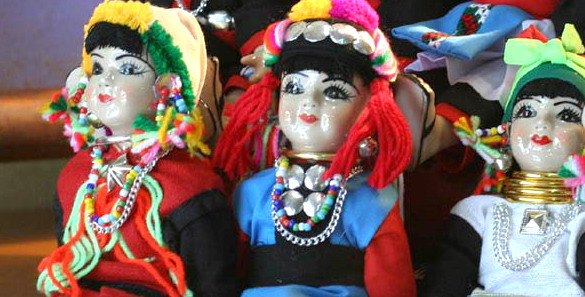 Bangkok's Doll Museum was founded more than 55 years ago when Khunying Tongkorn Chandavimol, a doll maker in her own right, decided to start her own museum. She stocked the museum with traditional Thai dancer dolls, historical and literary figure dolls, and hill-tribe andThai peasant figures, some of which she made herself, others that were made by her highly-skilled craftspeople.
Today, Khunying Tongporn's Doll Museum exhibits more than 400 dolls, both from Thailand and from overseas.
Khunying Tongporn's dolls aren't just your usual dolls though. She's known throughout the doll world as one of the finest dollmakers in the world, and her dolls have won awards in many different countries.
Location of The Bangkok Doll Museum – Unfortunately, the Doll Museusm is quite difficult to find unless you live in Bangkok or know it well.
The museum is located at 85 Dr.Leng Soi, Rajchaparob Rd., Rajtevee in Bangkok, in the Pratunam area of the city. You will however find excellent directions here.
What You'll See at The Bangkok Doll Museum
The Outer Room – The museum is made up of two large rooms. When you walk through the front doors of the main room, the first thing you'll see are gigantic cases full of Thai dolls and, when I say "full", I mean so full there's barely room for one more doll. There are dolls of Thai dancers, musicians, street vendors, fruit sellers, monks, peasants, ethnic hilltribes people, elephant handlers (mahoots) and on and on.
Most of the Thai dolls are displayed in one enormous case, with other rarer dolls in their own individual cases or glass boxes.
Further on are the displays of international dolls, which are separated into particular countries. You'll see London Tower guard dolls from England displayed alongside the Queen and Prince Philip. There are American historical figure dolls, petite French girls, Japanese geishas, Russian czars and so many more.
Don't miss the small case which shows the different stages of making a doll, from the head and torso right down to the tiny costumes and the even smaller head-dresses. It really is an incredibly intricate art, as few of these dolls are taller than four or five inches.
The Inner Room – While the outer room is the exhibit area where none of the dolls are for sale, the inner room is more of a shop, as all the dolls displayed here are for sale.
You will see newer versions of many of the dolls displayed in the other room, but don't think just because they're displayed they're of lesser quality. Every doll is painstakingly researched, so the doll you purchase is perfect in every detail.
Before you choose a doll to buy though, watch the small group of craftswomen who will make dolls while you watch.
Of course, to see the whole process, you must stand there for quite a while, but even just a few minutes shows you how much attention to detail goes into making even just one of the inexpensive dolls for sale in the shop.
In fact, I dare you to leave the Bangkok Doll Museum without buying a doll (if you have a child with you, you don't stand a chance) although you'll likely more regret it if you don't buy one than if you do.
Dolls start are as low as $14, with the higher-priced dolls at $35 to $150, but these are dressed in intricately-made costumes that take weeks to make and are perfect in every historical detail.
Besides, the entrance to the museum is free so, even if you buy a doll, it's still an inexpensive trip.
Directions to Bangkok Doll Museum