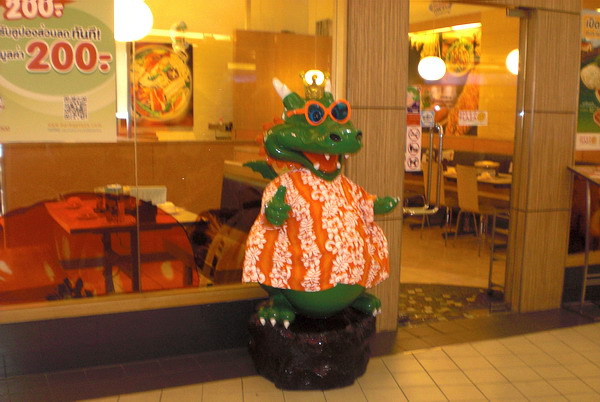 Japanese-style barbecue is one of the most popular cuisines in Bangkok, and Bar-B-Q Plaza is Thailand's largest barbecue chain, as well as one of the top ten largest restaurant chains in Thailand. Bar-B-Q Plaza serves Japanese and Mongolian-style barbecue, and is famous for its superb quality of food and cheap prices. If you like barbecue, and want to try something more unusual for a western taste, on your next visit to Bangkok, Bar-B-Q Plaza is the place to do it.
Locations of Bar-B-Q Plaza Restaurants – With more than 65 Bar-B-Q Plaza restaurants in Thailand, and at least 30 in Bangkok alone, you won't have to travel far to find one. Their first-ever restaurant opened at Central Ladprao Mall 20 years ago and that location is still open today. Also look for Bar-B-Q Plaza at the Big C strip mall on Ladprao Road, at Mahboonkrong (MBK) Mall in downtown Bangkok, at The Mall Bang Kae, at Siam Center, and in more than 25 other locations.
What Does Bar-B-Q Plaza Serve? – Japanese and Mongolian-style barbecue is the name of the game here. What that means is you're served a selection of small pieces of meats, seafood, fish and chicken, as well as lots of fresh vegetables. You cook everything yourself on a small barbecue plate in the middle of your table, dip it in one of their delicious sauces and enjoy. Bar-B-Q Plaza is one of the healthiest restaurant foods in Bangkok as you get to eat many types of vegetables, lean cuts of meat and chicken and, as it's barbecued, nothing is fried or oily.
How to Order at Bar-B-Q Plaza – When you're presented with the menu, start off by ordering a couple of appetizers. Bar-B-Q Plaza is known for its gyoza (Japanese stuffed dumplings) and I always order the pork ones, as the skin is very crispy and I like that it comes with small pieces of dried seaweed.
For the main meal, order platters of whatever you fancy — pork, beef, chicken, fish, shrimp, squid and even bacon, which arrive along with lots of vegetables, Japanese mushrooms etc. Don't worry if you're not sure how much to order. If you need more, you can order it later — as much as you want.
How to Cook Your Food at Bar-B-Q Plaza – Right after you order, the waitress will bring you a small dish containing a couple of pieces of pork fat. Put the fat on top of the circular barbecue grill and rub it around, letting it melt evenly all over the grill. This stops your food from sticking to it.
The waitress will also pour a broth around the outside of the grill. This gives off steam and is also great for dipping the food into before putting onto the grill.
When your food platters arrive, simply place as much food as will fit onto the grill with your chopsticks and let the grill do its job. You'll have to turn food items over, so both sides are evenly cooked but, as total cooking per piece only takes about 30 seconds, it's a lot faster than it sounds.
As pieces of food are completely cooked, take them off the grill with your chopsticks, dip into one of Bar-B-Q Plaza's delicious sauces, and eat. Don't forget too, you can also add garlic, lime and chili peppers to the sauce, if you like things a little spicier. You'll find condiment containers with all of these items already on your table.
The grill is plugged in at your table, so remains hot the whole time you're eating. Add more food, as space on the grill becomes available and order more platters if you're still hungry. My usual trips to Bar-B-Q Plaza last a couple of hours, as friends and I like to relax and talk over the food, take our time to eat, and just keep ordering more.
Bar-B-Q Plaza is a fun restaurant to eat at as you get to enjoy a community-style meal with family and friends and, at Bangkok's cheap prices, it's easily affordable too.
Bar-B-Q Plaza restaurants are also easy to find as you just have to look out for the huge green dragon outside. He's their official mascot, and he's very cute.
More Information: