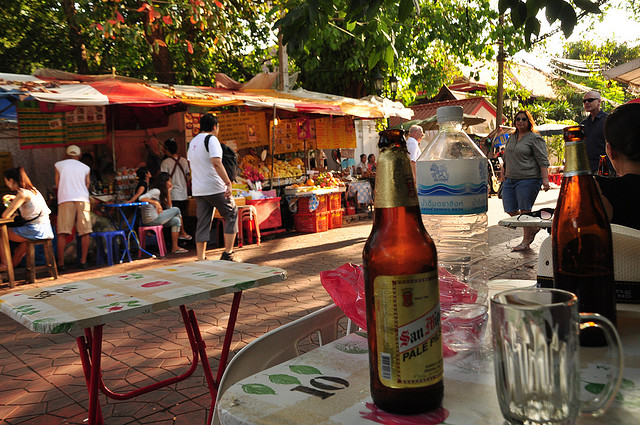 Khao San Road is the most popular area in Bangkok for low-budget travelers. Backpackers, especially, love Khao San Road as it's one of the cheapest places to eat in Bangkok with many shops, bars and street stalls serving Thai and western cuisine. If you're planning on visiting Khao San Road, why not try one of these cheap restaurants? You won't spend much money and the food is delicious.
May Kaidee – Probably the most famous restaurant in the Khao San Road area, May Kaidee's serves purely vegetarian food but it's the most delicious vegetarian food you'll find in Bangkok and at prices you can barely believe.
Almost every dish served is between $1 and $1.50, with everything being delicious. I recommend the spring rolls, the vegetarian massaman curry and the fruit shakes. May Kaidee's is located on the ground floor of a small hotel, Thai Cozy House, on Tanao Road. Anyone on Khao San Road will be able to tell you where it is if you get lost. May Kaidee's is also famous for its one-day Thai cooking course, which is a steal at around $40.
Oh My Cod – My favorite British restaurant in Bangkok, Oh My Cod serves pretty much any British food you can think of, plus a fair smattering of Thai food too. The restaurant staff is friendly and they have private TVs in every booth where you can watch a selection of British TV shows. The steak and kidney pies with mushy peas and chips are to die for, as are the typical English breakfasts (high fat, but so good!).
They also serve a decent British Christmas dinner if you're around Khao San Road at that time of the year. Oh My Cod is located on a side soi, Soi Rambuttri, and has a nice garden out front if you want to eat in the fresh air. While, of course, nowhere near as cheap as the Thai restaurants, it's still a cheap deal for good western food, and portions are huge.
Ethos International Vegetarian Restaurant – If you're looking for ethnic food that happens to be vegetarian or vegan, you can't beat Ethos International. They serve a mix of Thai, Italian, Indian and Middle Eastern cuisine for a little higher prices that similar restaurants, but it's well worth the price. They also even offer free wi-fi if you have your laptop with you. The Thai curries are excellent as is the shepherd's pie and, if you're up for dessert, try the apple crumble – it's gorgeous!
Ethos International also has a relaxed atmosphere, which is great if you want to hang out and meet people. Just be warned, if you're in a hurry, it's probably best to save Ethos International for a day when you're not as, both times I've been there, my order didn't arrive for at least 40 minutes. The nice staff, though, make up for any short comings and so does the food. Ethos International is located on Tanao Road.
Mr Yim's – Because there are so many backpackers around the Khao San Road area, and because many of them are looking for healthy eating alternatives, many of the restaurants serve vegetarian food. Mr. Yim's is no exception with great vegetarian food but, for me, the attraction of this restaurant is the baguette sandwiches.
They're absolutely delicious and stuffed with fillings, and a steal at between $1.25 cents and $2.50 per baguette. Mr. Yim's is also known for their good breakfasts. Mr. Yim's used to have his own restaurant but after he couldn't renegotiate the lease, he became a permanent food stall vendor instead. You'll find him and his cart (and his incredible baguette sandwiches) opposite the Merry V Guesthouse, right at the temple wall.
Cheap food is everywhere on and around Khao San Road so, if you're on a tight budget, this is definitely the area to eat in. Most restaurants serve good food at low prices, so don't be afraid to try anything as, most of the time, if you don't like it you've only wasted a dollar. Also, don't forget to check out the many food stalls on Khao San Road – food here runs only around 75 to $1.50 cents and is great to buy if you want to grab a quick snack or a cheap meal on the run.