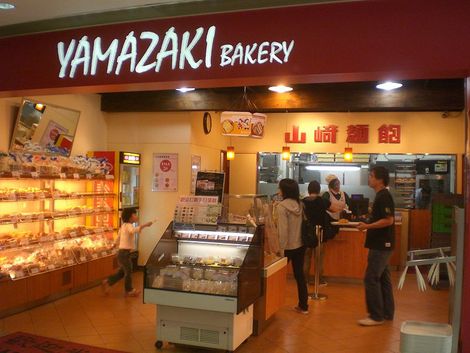 In the last few years, Bangkok has gone bakery crazy. Once, where there were just a few good bakeries, now Bangkok has them in every shopping mall and popping up all over the city.
Over the last few years I've lived in Bangkok, Thailand, I've gained weight. No less in part to the great food, I also blame the Thai bakeries, the best of which produce incredibly delicious cakes, breads and  pastries at dirt cheap prices.
Who can resist buying a fresh bun stuffed with pandan custard, or a sausage roll still hot from the oven. I know I can't. Thais too are absolutely addicted to fresh baked goods, as you'll discover when you see the huge lines outside most of these best Bangkok bakeries.

In and Out – Part of the Oishi group of restaurants, In and Out is a cafe that also sells its own brand of baked goods. In and Out cafes are crammed full of loaves of fresh bread (try the raisin loaf, yum!), sausage rolls, tuna puffs, cream filled rolls, chocolate covered buns (warm it up in the microwave to melt the chocolate and, oh my God, delicious), Japanese rice desserts, shredded pork buns and boatloads of other stuff.
Prices at In and Out are as cheap as 20 baht (60 cents) for a roll, bun or a puff, and you can either buy baked goods to take with you or eat at In and Out itself (their lattes are incredible too). Most In and Outs sell their baked goods at 25-30% off towards the end of the day if you want a good deal.
Look for In and Out bakeries at most Bangkok shopping malls.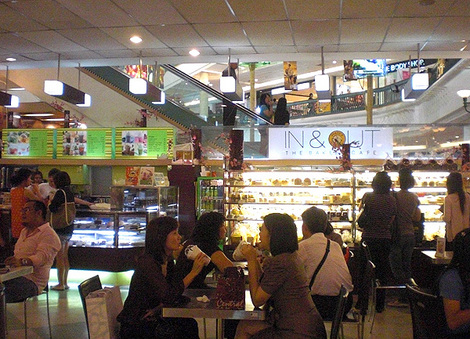 Yamazaki – Many of the bakeries in Bangkok seem to be Japanese-based, selling a mix of Japanese, Thai and western-style baked goods. The Thai Yamazaki bakeries are a great example of this.Yamazaki bakeries are now all over Bangkok at most area shopping malls, and sell a huge variety of fresh baked goods.
Some of my favorite products are the strawberry cakes (with sweet cream and a strawberry on top), the apple yoghurt bun (sweet powdered sugar on top – too die for!), and sweet horns stuffed with chocolate cream at one end and vanilla at the other.
My two favorite Yamazakis are at Fortune Mall and at Esplanade mall, both on Ratchadapisek Road in Bangkok.
Siam Paragon G/F Floor – One of the best places for the best bakeries in Bangkok is the ground floor of the huge Siam Paragon shopping mall. Down here, you'll find boatloads of restaurants serving baked goods to either eat in or take home, as well as bakeries selling everything from western cream cakes to Japanese rice cake desserts and Thai pork buns.
Check out the baked goods at Kalpapruek Bakery (their chocolate cake is famous throughout the city), BreadTalk Cafe has loads of bread-based desserts (sweet raisin buns, pork buns, sausage rolls, cream puffs and freshly baked loaves of bread) as well as cheesecakes, chocolate cakes, meringues and more. Puff & Pie bakery (owned by Thai Airways) sells delicious flaky pastry taro puffs, fruit tarts and bread-based delights.
And don't miss the scrumptious cakes at Secret Recipe.

The Windsor Shop – Owned by Windsor Suites hotel group, The Windsor Shop is more of a British-style bakery, specializing in huge croissants, raisin buns, layer cakes and fresh bread.
Most of the branches of The Windsor Shop are at sky train (BTS) stations, so a handy place to pick up a baguette, some croissants or a chocolate cake on your way home from work. My favorite location is at National Stadium station.