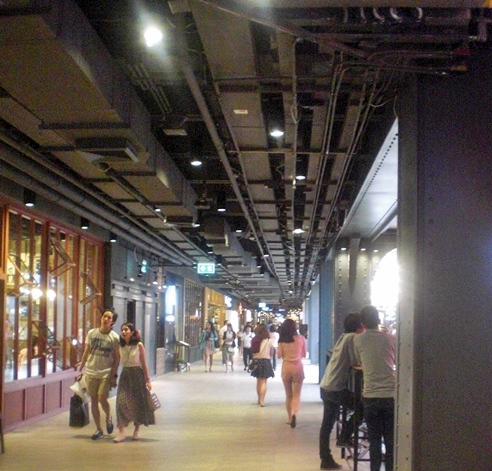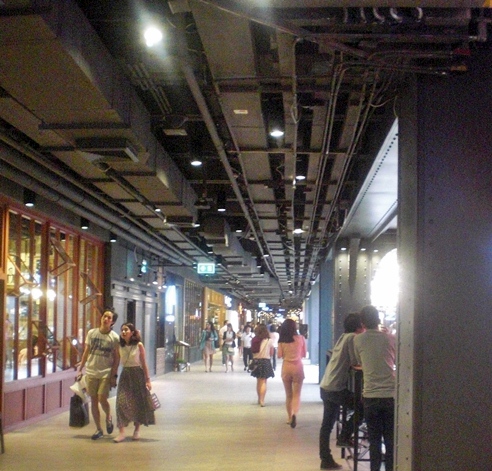 Siam Center is one of the big three shopping malls located in downtown Bangkok, Thailand, right next to the Siam sky train station. Popular with both Thais and visitors to Thailand, Siam Center is a four-storey mall that's been in existence for over 30 years, and features stores, restaurants, cafes and even their own radio station.
It is also one of Bangkok's top places for cheap eating with many cheap restaurants to suit all kinds of tastes.
Bapple Donut and Coffee – Not exactly the healthiest of places, I mention Bapple Donut as being a cheap cafe to eat at, as this Malaysian donut shop has only been open for a few months. Bapple Donut opened at Siam Center, in an attempt to break into Thailand's massive donut market and soon followed with six other stores around Bangkok.
At Bapple, you'll find 40 different kinds of donut, including Pink Pelican, White Cashew and Tea-Off, as well as tea and coffee and they are delicious.
For only a couple of dollars, you can start off your day with a good cup of coffee and a couple of tasty donuts. Bapple Donut and Coffee is on the fourth floor of Siam Center right at the top of the escalator.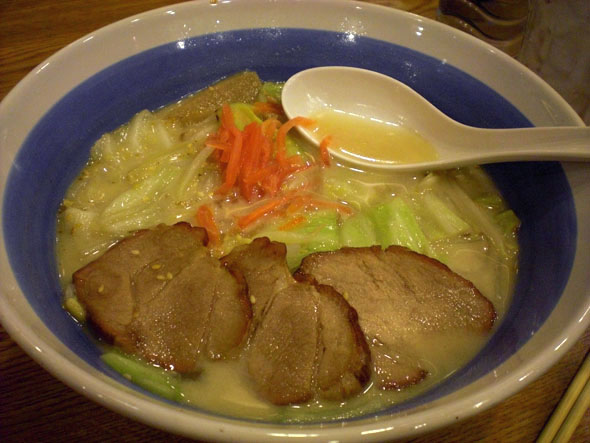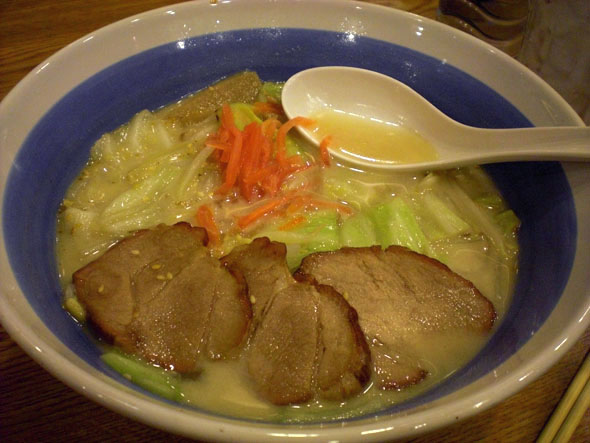 Hachiban Ramen – Bangkok's biggest noodle chain, Hachiban Ramen is a Japanese noodle shop specializing in large bowls of noodles of various types in a tasty broth soup and topped with vegetables, chicken, pork, beef, shrimp or duck. You can also get pork dumplings and various other appetizers that are cheap and tasty.
For a shared appetizer, two massive bowls of noodles with all the toppings and a couple of soft drinks, two people can eat at this cheap Siam Center restaurant for only $6.50. You'll find Hachiban Ramen on the third floor of Siam Center.
Oldies Cafe – Oldies Cafe is a Bangkok institution. It's been at Siam Center for years and is easily recognizable for its old western-style juke box, cool memorabilia around the walls, it's mock American atmosphere, and it's 1950s and 1960s music. Each table has its own jukebox where you can choose the music you want to hear. The food is a mix of Thai and western, with excellent rice dishes, good pasta and tasty sandwiches and burgers.
They're also known for their superb fresh fruit smoothies and ice cream sundaes. The food is cheap and the atmosphere here is fun. Expect to spend $10 or less for two entrees, a couple of ice creams and soft drinks. Oldies Cafe is on the fourth floor.
ThaSiam – Another Thai chain restaurant, ThaSiam is known for what's called 'boat noodles', so called because they used to be served from boats on the rivers of Thailand. Boat noodles are small bowls of noodles in broth or dry (ie: not in broth), depending on taste. They come with vegetables and meat or shrimp toppings and are delicious, particularly with a cold beer.
ThaSiam also serves fried rice dishes, rice and curry dishes, rice and meat dishes, chicken wings, pork dumplings etc. Prices are cheap with an entree (and portions are large) and a drink averaging around $2.75). The staff is lovely too. ThaSiam is on the fourth floor.
UCC Coffee – UCC Coffee is frequented by Thai teenagers, families and lots of expats. The reason being the food is cheap and delicious and they have free internet so, if you get there early enough, you can surf the net while eating lunch sitting at one of UCC's computers. The menu is a mix of Thai and Western food, with excellent sandwiches, salads and an absolutely phenomenal seafood lasagna.
Also expect various iced coffee and tea drinks, fruit juices and various beers. Lunch per person is around $3.70 (120 baht) and that will get you a large entree and an iced coffee or tea. UCC Coffee is on the first floor next to one of the main entrances to the mall.