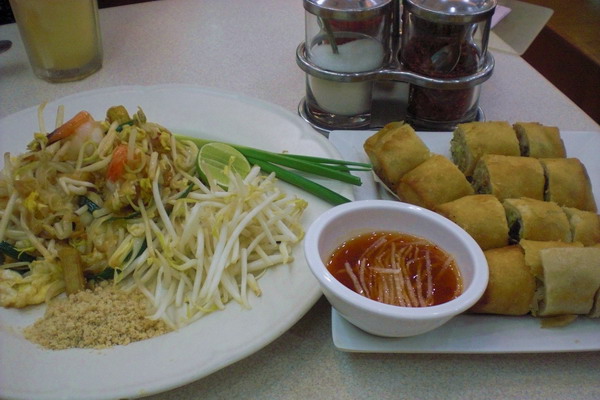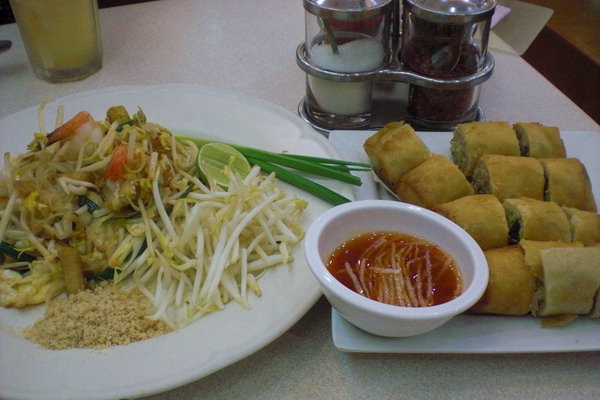 Mae Hong Son, Thailand is an awesome place to visi, not only for its jungle trekking and rafting, but also for the area's tasty authentic food. Here you find traditional northern Thai-Burmese food, but at cheap prices you'd never find in a big city like Bangkok.
Salween River Restaurant – Popular with vegetarians who love the extensive veggie menu, Salween River Restaurant is a hangout for backpackers and budget travelers as the food is cheap and delicious. They serve a great combination of Thai, Shan and Western food, which with so many choices, initially, it's a bit mind-boggling.
Breakfast is served every day at Salween River, and there's an extensive menu to choose from — omelettes, French toast, toast with peanut butter, scrambled, poached and fried eggs on toast, bangers and mash, muesli, and breakfast sets — bacon, toast, sausage and eggs. Don't miss their delicious fruit smoothies too.
Lunch and dinner include sandwiches, salads, typical Thai dishes like tom yam geung (spicy shrimp soup), spaghetti, burgers, pizza, steaks, grilled salmon — and a slew of Burmese and Shan dishes. To say this menu is huge is an understatement.
Meals begin at only 70 baht ($2.30) and as portions are large, it's one of Mae Hong Son's cheapest deals.
You'll find Salween River Restaurant at Pradit ChongKham Road, 23 in Mae Hong Son.
Baan Benjarong – Baan Benjarong, or Benjarong House, is a popular Pai restaurant that serves authentic Thai dishes for an affordable price. Located in a pretty converted house, Baan Benjarong is family-owned and operated and prides itself on its friendly service.
Dishes are Thai, Chinese, Shan and Malay including a variety of tasty dips and things to dunk in them, various styles of som tam (spicy papaya salad) with lots of unusual tastes you've probably never had before, soups, curries, stir-fries, seafood, (try the crab in coconut milk), fried fish, and Chinese noodles. For dessert, the Shan Pudding is the favorite dish, and there's hardly a table not eating it at meal's end.
The food at Baan Benjarong is superb, the family are lovely and, if you sit outside around at the rear of the building, there's a gorgeous view out over the rice fields.
Baan Benjarong is at Thanon Rangsiyanon in Pai, Mae Hong Son.
Laap Khom Huay Pu – One of the few restaurants that serves traditional Mae Hong Son-style dishes, Laap Khom Huah Pu is about a mile outside Pai town center, so you'll have to take a tuk-tuk or a motorbike. It's a popular spot for locals, and less so for tourists, which is nice, as they go for the northern-style meat dishes that have a heavy emphasis on hot (spicy) and rich. While the large amounts of meat may not be for everyone, if you're a meat lover, Laap Khom Huay Pu is the place in Mae Hong Son to eat.
Larb, lâhp kôoa, with sticky rice is one of their specialties but, unlike in Bangkok where it's quite light, here it's dark in color as it's mixed with blood before cooking. If you're not a meat-type person, you may want to avoid it as the taste is definitely strong, but it is incredible. They also serve a tasty beef and offal soup (kidneys, heart, liver and intestine), which is stuffed with meat and a lovely orange color, as well as various other area specialties. If you're adventurous and not a picky eater, you may just find Laap Khom Huay Pu becomes one of your favorite northern Thai eating experiences.
Laap Khom Huay Pu is cheap too, with two people being able to eat dinner and have a couple of beers for less than 300 baht ($10).
You'll find Laap Khom Huay Pu on Route 1095 just outside Pai, Mae Hong Son.
By the way, if you're planning on staying in Mae Hong Son, you might also want to check out cheap Mae Hong Son budget hotels, as staying at any of these hotels could save you some money.