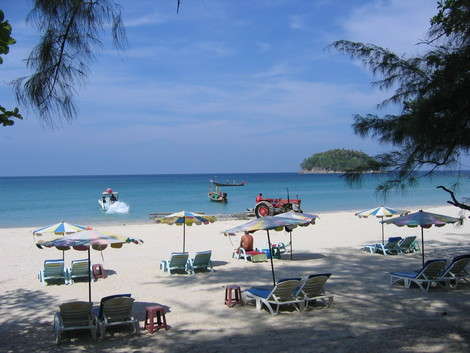 Phuket is Thailand's number one beach destination. A southern island with some of the most beautiful beaches in the region, it's a wonderful place for a holiday with the kids, as there's lots to see and do. Kid-friendly hotels are also a mainstay of Phuket, with some of the best in the country here. If you'll be taking a vacation to Phuket and want your kids to have the best time too, check out these kid-friendly hotels. They're some of the best on Phuket.
Holiday Inn Phuket – The Holiday Inn does a great job for their child guests in just about every place they're in, but the Holiday Inn Phuket Resort goes above and beyond when it comes to being kid-friendly.
For families with kids, the Holiday Inn Phuket offers both family suites and kids suites. Kids suites are suites with rooms built just for kids, that are inside the main family's room. The kids' rooms come with their own TVs, an XBox or Playstation, DVDs and toybox. Mom and Dad meanwhile, also get all the mod-cons, including flatscreen TV with cable, Wi-Fi internet and coffee and tea making tray.
The hotel has a Kids Club, with two kids pools, a water slide, TV, video games, activities, games, and arts and crafts. If Mom and Dad need a break, the kids will love staying here for a few hours. In fact, they may never want to leave. There's also a Club-12, for kids older than 12 years old.
For Mom and Dad, the hotel has excellent restaurants, two pools, a fully-equipped gym, a bar, a beauty salon and it's within steps of Patong Beach and everything that has to offer.
The Holiday Inn Phuket is located at 52 Thaweewong Road, Patong Beach, Phuket.
Evason Phuket & Bon Island – Evason is a chain of hotels popular with Thais who have kids, and the Evason Phuket & Bon Island is one of the top in Thailand.
At the Evason Phuket, which is on Rawai Beach, all guest rooms have flat screen TV with satellite, DVD players, a mini bar, and coffee and tea making facilities. All have private balconies or patios with gorgeous views out over the lush gardens or the ocean.
The hotel has a Just Kids! Kids' Club, with lots of activities and games, environmentally-conscious projects the little ones can learn about and participate in, and even has sleepovers, where kids are able to stay with certified babysitters overnight. Mom and Dad will love that as, even on a family holiday, it's still nice to be able to have a bit of romance.
Bon Island is a private island owned by the Evason. You get into a traditional Thai long-tailed boat, and the driver will take you out to the island, where you and the kids can swim, snorkel or fish.
Or, if you just want a few hours to yourself, Evason Phuket will arrange a babysitter for you too.
You'll find Evason Phuket & Bon Island at 100 Vised Road, Moo 2, Tambol Rawai, Phuket.
Thara Patong Beach Resort – Right in the middle of Patong Beach, one of Phuket's most popular beach towns, the Thara Patong Beach Resort is one of the most kid-friendly on the island.
The hotel's guest rooms feature en suite bath, flat screen TV with satellite, in-house movies, air conditioning, tea and coffee making trays and a private balcony or patio.
The hotel has a swimming pool, a large kids pool, which adjoins the main pool, and the restaurant is great about catering dishes to the kids' taste. Patong Beach is right on the beach road, and also just minutes away from cafes, restaurants, shopping and even video arcades for the kids.
What makes the Thara Patong Beach Resort so perfect for a holiday with kids though, is the lovely, attentive staff, who will do everything they can to make sure your children have a wonderful vacation.
The Thara Patong Beach Resort is at 170, 170/1 Thaweewong Road, Patong Beach, Phuket.
Finally, if you'll be traveling through Bangkok on your way to Phuket, don't forget to read Best Child-Friendly Hotels in Bangkok as well, and you should find the perfect place for you and your kids.