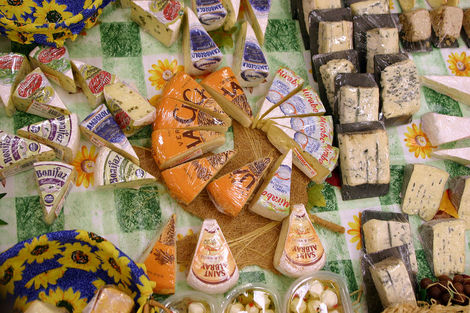 One of the last things you might expect to find in Bangkok, Thailand is a good delicatessen. Surprisingly, in the last few years, a fair number of good delicatessens have opened in Bangkok, selling European-style breads, imported meat and cheese, dried pasta, coffee, chocolate, wine and more. If you're a sucker for imported deli food, you have to visit these best Bangkok delicatessens. They'll satisfy any craving you have.
Gourmet Market, Siam Paragon – One of the best delicatessens in Bangkok is at the Gourmet Market supermarket in the basement of Siam Paragon. Here, you'll find deli counters selling a vast array of imported cheeses, meats, fish, sausages, dried pasta, chocolate, and European-style breads. Along with the deli counters, there are also several other counters selling already-prepared meals ranging from Lebanese to Japanese, Italian to Thai.
Prices at Gourmet Market are high as, obviously, just about everything they sell is imported. But, if you're craving a decent Dutch cheese, bar of Swiss chocolate, New Zealand lamb or a good American steak, Gourmet Market has all that and more.
Just head down the escalators at Siam Paragon mall (next to Siam sky train station) and right at the back, behind all the food stalls, you'll see Gourmet Market. If you go in the main entrance with the shopping carts to your right, the delicatessen section is on your right.
Foodland – Foodland is another Thai supermarket chain specializing in gourmet food and with locations all over Bangkok. They have an excellent deli section, selling imported meats and cheeses, seafood, wine, fruit and vegetables. Although smaller deli counters than at some other markets, I like Foodland as their products are always fresh, reasonably priced and there's a decent variety of items, and they have an excellent wine selection. Don't miss buying their liver pate. It's to die for.
Some of Food Land's locations are at Sukhumvit 71, and Sukhumvit Soi 16. Check their website for other locations. They're also open 24 hours a day.
Food Glorious Food – I discovered Food Glorious Food a few years ago and seriously thought I'd died and gone to delicatessen heaven. A bit far down the sky train line, I discovered this little gem with a Thai
friend, and have been back many times since.
Food Glorious Food supplies many of Bangkok's best hotels and restaurants with imported products so, as you can imagine, what they sell is the best. If you're looking for Australian, British or New Zealand fresh food products, this is the place to shop. You'll find Australian beef, lamb and veal – top-quality and superb tasting – cheese from Germany, Holland, Greece, Australia (you name it, they have it), world-famous Spanish ham, imported sausages, liver pate, hummus, chicken pies, beef pies, home made pastries etc. They have a superb salad selection and a good wine department.
The best way to get to Food Glorious Food is to take the sky train to Phra Kanong station, then take a taxi – it's about three minutes.
Bei Otto – Another of Bangkok's best delicatessen's is the German delicatessen Bei Otto. Owned by a German chef, Bei Otto has the best selection of German meats, sausages, cheeses, Black Forest ham, homemade breads, smoked salmon, imported chocolate and candy. There's also a fair selection of German wines.
Don't miss Bei Otto's little cafe too. It's at the back of the deli, serves an excellent German breakfast as well as pastries, cakes and, of course, pretzels and an excellent latte.
Bei Otto is at Sukhumvit Road, Soi 20 in Bangkok.