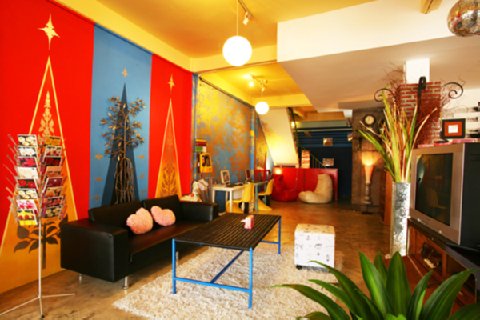 One of the most popular areas to stay in a hotel in Bangkok is the Chatuchak area, north of Bangkok's downtown. Home to the world-famous Chatuchak Market and its 15,000-plus stalls, many tourists and business people want to stay in the Chatuchak (also called Jatujak.) area, for easy access to the market.
With tens of thousands of people buying products to export overseas every month, staying close to Chatuchak can make their business easier. With many hotels to choose from in the Jatujak area, these three hotels offer some of the best deals in Bangkok.
Poonchock Mansion – Not advertised in the main tourist brochures, Poonchock Mansion is a wonderful place to stay for a few days or longer, particularly if you want easy access to Chatuchak Market, Central Ladprao, Major Ratchayothin or any of the other things the Jatujak area has to offer.Poonchock Mansion is technically a serviced apartment building for longer stays and a hotel for shorter stays.
Tucked up a quiet and pretty soi, just two miles from Chatuchak, it's right off Pahonyothin the main road, and within walking distance of Major Ratchayothin, Central Ladprao and the underground train system.Poonchock Mansion offers everything from one room studio apartments up to a three bedroom penthouse.
Most rooms fall in the middle range, with one bedroom apartments and large studio rooms being the norm.
The hotel itself is a little old-fashioned but what it lacks in modern style it makes up for in delightful staff and large rooms. Khun Pui, one of the women who helps run the hotel, is wonderful. She'll make sure you're well taken care of, is helpful with any problems and will go out of her way to make sure your stay at Poonchock Mansion is a happy one.
The other staff too is friendly, helpful and kind, and the security staff is some of the best in the city. The hotel is in a quiet area of Bangkok so great for a good night's sleep, yet within walking distance of shopping malls and restaurants.
Rooms are large with a western-style bathroom, enormous king-sized bed and a small seating area. There's a kitchenette in each room that comes with a hot water kettle, refrigerator and microwave so you can eat in too if you don't feel like going out.
Rooms begin at 900 baht a night (around $28), with a low monthly rate of 9,000 baht ($300) for the studio rooms.
Poonchock Mansion is at 27 Pahonyothin, Soi 23, Bangkok
Mystic Place – Mystic Place is a boutique hotel situated just a couple of minutes from the Saphan Kwae sky train station in the Chatuchak area, two stops from Chatuchak market's station.
This hotel is amazing and is one of the most interesting concept hotels in Bangkok.Mystic Place has 35 rooms, all of which have been decorated in an individual style by a different Thai artist. Some rooms are bright red with funky art on the walls, weird decorations and crammed with books and other goodies. Other rooms are more subdued and decorated in a minimalist style.
Each room is a unique art project that just happens to be a hotel room yet each room also comes with cable or satellite TV and en suite bathrooms. There's also Wi-Fi internet access in every room, a laundry service, a tour desk and non-smoking rooms are available.
The hotel even offers free tuk-tuk rides to and from the hotel and, as it's located in the middle of a true Thai residential district, you'll see the real Bangkok here.Mystic Place's room rates start at 1,600 baht a night ($50) and go up to 3,000 baht ($97) for Mystic suites.
The hotel is located at 224/5-9, 224/11-18 Pradipat Rd. | Samsennai, Phayathai, Bangkok.
Hip Hotel – Another boutique hotel in the Chatuchak Market area, but this one is large, that's decorated in an artistic and modern style is Hip Hotel. This 10 story hotel has 175 rooms all designed in a funky, light and bright style guaranteed to wake you up in the morning.
Not like Mystic Place, where Thai artists did the decorating, Hip Hotel is thoroughly corporate, just made to look individual and artistic. But, that doesn't take away from the charm of the place.Rooms are large and clean and come with LCD TV, mini bar and Wi-Fi.
There's also an on-site bar and pub, a cafe and restaurant, laundry facilities, safety deposit boxes and room service. Hip Hotel is within walking distance of the underground train system (Ratchadapisek station), which is only five minutes from Chatuchak Weekend Market, Central Ladprao and many area restaurants and cafes.
It's also near to the Saturday evening Ratchadapisek Night Bazaar, wonderful for vintage products and artsy buys.
Hip Hotel's room rates begin at 1,900 baht ($58) a night. Hip Hotel is located at 111/1 Soi Niam-utit, Ratchadapisek Road, Bangkok.
Photo – One of Mystic Place's stunningly beautiful rooms.