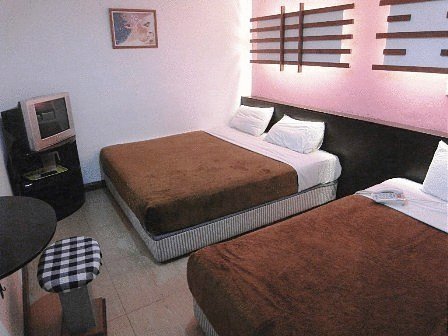 Kuala Lumpur (KL), Malaysia isn't the most expensive city for hotel rooms but it's not the cheapest either. In fact, hotel room rates in KL have increased a lot in recent years. That's why when there are still some hotels with under $50 a night room rates, offering superb accommodation, on your next trip to Kuala Lumpur you should book one while you can.
Hotel China Town 2 – I've stayed at the first Hotel China Town in Kuala Lumpur and actually toured Hotel China Town 2 the last time I was there. A small hotel fun by extremely friendly staff, Hotel China Town 2 is popular as much for its location as it is for its cheap accommodation.
All guest rooms at the hotel are under $50 a night, and although basic are clean and well-taken care of. Each room has a comfortable bed, a TV with basic cable, and free Wi-Fi internet. There's an en suite bath which, although Malaysian style (the shower head comes directly out of the bathroom while with no separating stall so wets the whole bathroom), it's clean and suitable for a couple nights stay.
The main reason people love Hotel China Town 2, is its front doors open right out onto Petaling Street in Chinatown, where Kuala Lumpur's most famous night market is. It's also packed with shops, cafes and the best street stalls in the city selling everything from noodles and rice dishes, to snacks and desserts.
Room rates start at only $21 for a single room without a window and go up to $41 for a room with a double bed and a single that easily sleeps three. Well under $50 a night.
Citin Hotel Masjid Jamek – In a convenient location in the Masjid Jamek area of Kuala Lumpur, Citin Hotel is a boutique-style hotel that features trendy and comfortable accommodation under $50 a night.
At Citin Hotel, each guest room is individually designed in bright, fashionable colors. Each room has flat screen TV, Wi-Fi internet, personal safe and a hairdryer. There's an ensuite bath that comes with basic toiletries and a vanity counter with stool. A decent buffet breakfast for up to two people is included in the room rate.
The hotel has a cute restaurant that's open from early morning till late at night and serves meals, drinks and snacks both Malay and Western style.
You'll love the location at Citin Hotel Masjid Jamek too, as it's only a two-minute walk to the Masjid Jamek train station so easy to get around KL from here. Room rates easily come in under $50 a night with single and double rooms between $31-35.
Cititel Express Hotel – For a hotel close to the city's business district and under $50 a night, you can't beat Cititel Express Hotel. The staff is lovely – very friendly and helpful – and the service is excellent, particularly for the price.
The hotel rooms are spacious and feature flat screen TV, large work area, coffee and tea maker, an ensuite bath, toiletries and a hairdryer. Rooms are quiet, so you'll get a good night's sleep too.
Cititel Express Hotel has a nice Terrace restaurant that serves food from early morning (around 7am) to past 11pm. You'll find a mix of Malaysian and International cuisine at cheap prices and the service is good. The hotel is located in the Little India area of KL, which is a fun area to walk around to do a bit of shopping or pick up some Indian candy or snacks.
With Cititel Express Hotel, don't book on their website as prices are usually higher than hotel websites. Look at room rates on a site like Booking.com instead, as here you'll get a single, double or queen room here for between $41-49 a night.