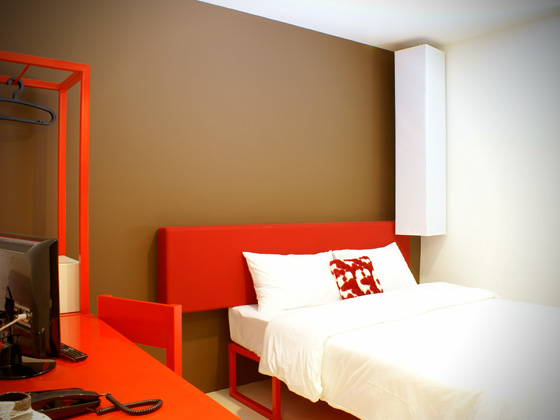 Hotels in Bangkok, Thailand are as cheap as under $50 a night. In Thailand though, 'cheap' doesn't mean nasty. In fact, a hotel in Bangkok under $50 a night can be the equivalent to a 4-star hotel in any western city, complete with all the facilities and amenities. if you'd like to stay in a nice, but cheap hotel on your next trip to Bangkok, you can't go wrong with these three under $50 a night hotels. They're lovely.
Unico Express@ Sukhumvit – Perfectly located on Sukhumvit in Bangkok, near Nana BTS sky train station, Unico Express @ Sukhumvit is a relatively new trendy boutique hotel with room rates under $50 a night.
The hotel is large, with four room types but even the Economy rooms are something to write home about. Every room is pristinely clean, and comes with a refrigerator, cable TV, free Wi-Fi internet, air conditioning and en suite bath with shower. Rooms are minimalistic (ie: no fancy pictures on the walls) but they're quite large and with rates beginning at $28 a night for an economy room, or $31 if you want breakfast, you can even afford a gorgeous Superior level room, as they're only $38. All rooms in fact all guest rooms fall well under the $50 per night ceiling.
There's a coffee shop, a swimming pool, internet corner, a laundry service, a tailor service and you can even get help booking tours. Plus, step outside the front door and you're in the middle of one of Bangkok's busiest and most popular downtown areas with restaurants, cafes, shops, markets and bars as far as the eye can see.

Take a Nap – I was introduced to this funky boutique hotel recently when some out of town friends stayed there for a couple of nights. Take a Nap is one of Bangkok's newest trendy budget hotels, that's part hotel part hostel, and offers some of the most unique accommodation in Bangkok.
Take a Nap has 30 guest rooms, all of which have been designed by local Thai artists so they're completely unique. From teddy bears in forest scenes, to tuk-tuks, psychedelic flowers and rock concerts – the walls are bright, colorful and so so cool. (Unless you want the Sea Shell room, and that's all white).
Rooms have TV with several channels, air conditioning you can control yourself, tea and coffee making facilities and an in-room safe.
The hotel is also slap bang in the middle of all the action in Bangkok, so you won't miss anything here. With room rates starting at $29 a night (imagine, that cheap for a downtown location), and a bed in a dorm room at $12 you'd be crazy to miss this under $50 a night hotel.

Lub D @ Silom – Lub D Hotel is a budget Bangkok hotel I checked out after a writer I know arrived in Bangkok and stayed here. A boutique hotel slash hostel, Lub D takes funky, basic but cool to new heights.
Your choice of rooms includes dorm rooms, twin private rooms and doubles, all of which are clean, minimalistic but comfortable. Every private room has a safe deposit box, air conditioning, queen sized bed and an iPod dock. All rooms have a shared bathroom, except for the Double Deluxe which has an ensuite bath and an LCD TV with satellite.
Lub D's facilities include a laundry room, a cafe, free internet, a TV room, and a cheap breakfast. It's located close to Chong Nonsi sky train station, with shops, restaurants, cafes and the Suan Lum Night Bazaar within walking distance. It's also non-smoking, like all Thai hotels, so you never have a stinky room to contend with.
Room rates at Lub D are dirt cheap. Beds in a dorm are $18.50 (high for Bangkok hostel rates, but this place is clean, clean, clean) and a Railway Twin Room is $47. If you book online though, their rates are often 20% cheaper. Again, all under $50 a night. (Be aware, Lub D also has another location at Siam Square, but they're quite a bit more expensive, and not worth the price for a dorm-style room).