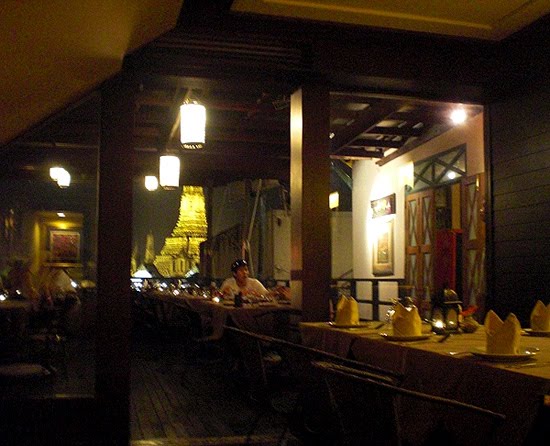 From hotels to restaurants to intimate cafes, Bangkok has some amazing places to celebrate your birthday. Whether you like Thai food, Japanese food, western food or a place that offers everything, you'll have a wonderful birthday in Bangkok – guaranteed.
Le Normandie – For something truly spectacular on your birthday, Le Normandie on the top floor of the Oriental Hotel is one of the top ten restaurants in Bangkok. Serving French cuisine, much of which is actually brought into Bangkok from France, it's expensive with the average entree around 1,400 baht ($45) but, as it's your birthday, money is no object right? Le Normandie has an excellent wine list and the ambience is so elegant and chic, you'll feel like a princess on your birthday here.
Oriental Hotel, 48 Oriental Avenue, Bangkok Tel: 02 659-9000
Crepes and Company – One of my favorite restaurants in Bangkok for the last ten years, Crepes and Company is where I spent my birthday two years ago. Serving the most amazing crepes you've ever had, with what seems like hundreds of choices for stuffings, from sweet to savory, Crepes and Company is perfect for a relaxed birthday. Crepes and Company also serves awesome pizzas, salads and some unbelievable Greek and Spanish food. The restaurant is located in an old wooden Thai house, with a lovely garden, and is perfect for a lunch or dinner birthday celebration. Awesome coffee too.
Sukhumvit Soi 12, Bangkok Tel: 02 653-3990
V-9 Wine Bar and Restaurant – On the 37th floor of the Silom Sofitel Hotel, V-9 Wine Bar and Restaurant seems so elegant yet is actually quite casual. But, I still feel like a million dollars when I'm here. At V-9, you cannot miss the 'tasting tree' with several different dishes for each diner to try. V-9 serves Thai, French and international cuisine.
Try the lobster bisque soup (superb!) or the Australian lamb and don't miss the 'dessert tree' – as you'll kick yourself if you don't make room for the rich V-9 desserts. With a cool decor and a fun atmosphere, V-9 Wine Bar and Restaurant is perfect for a casual yet quite decadent birthday celebration.
188 Silom Rd, Bangrak, Sofitel Silom Bangkok 02 238-2992
The Deck by the River – My favorite restaurant in Bangkok is The Deck by the River. Situated in a beautifully converted Thai-Chinese shop house right on the Chao Praya River, it's directly opposite Wat Arun, which at night looks so romantic all lit up with gold lights.
The Deck by the River serves Thai, Italian and western-style food with everything I have eaten there so far being delicious. The Deck is a lovely place for a birthday celebration too as there are two large decks overlooking the river, plus two inside areas that are stunningly decorated. After dinner, you can head to the rooftop bar for birthday celebratory drinks overlooking the river and watch the boats go by. Prices too are excellent, with the average entree only 260 baht ($8.90).
6-38 Soi Pratoo Nok Yoong, Maharat Road, Rattanakosin Island, Bangkok – Tel 02-221-9158
Each of these and many other incredible Bangkok restaurants are amazing places to celebrate a birthday. Years from now, you'll look back on your birthday in Bangkok and wish you could do it all over again.