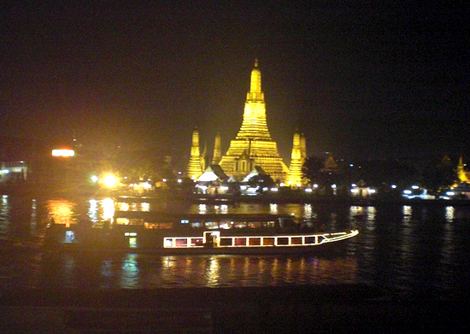 If you are looking for the best riverside bar in Bangkok, Thailand, the only one you should even visit is The Deck at Arun Residence. The bar at The Deck is located on the rooftop of the building, which also houses a two-story restaurant (excellent food) and a boutique hotel.
All three areas overlook the absolutely stunning Wat Arun — which means this riverside bar in Bangkok will give you a spectacular view no other can.
The best way to enjoy a few drinks at The Deck rooftop bar is first of all to enjoy dinner at The Deck restaurant. An excellent mix of western and Thai food, I recommend the gai satay (chicken satay), which is literally the best satay I have ever eaten in Bangkok, and one of the pasta dishes the restaurant serves.
After dinner, walk up the small outdoor staircase and onto the roof. Here you'll find The Deck bar, which directly overlooks Wat Arun. At night, when it's all lit up and the boats are below it going up and down the Chao Praya River, there's no better view anywhere in Bangkok.
You will find The Deck bar at Arun Residence — the boutique hotel that is owned by the same people.  Both are at 36-38 Soi Pratu Nokyung, Maharat Road.
The restaurant is open all day from 7am to at least 11pm, while the bar opens at 5pm on Mondays thru Thursdays and closes around midnight. On Friday, Saturday and Sunday, it is open from 5:30 pm to 1am.
If you are not familiar with the area (it is very close to the Grand Palace and Wat Phra Kaew), take a taxi so you don't get lost as Arun Residence and The Deck are down a small side street and are easy to miss.
And if you really want to see what The Deck's rooftop bar is like, and what kind of food they serve (delicious) check out this video from a Thai TV program. It is in Thai, but they have done a lovely job of showing you what makes The Deck at Arun Residence so special.