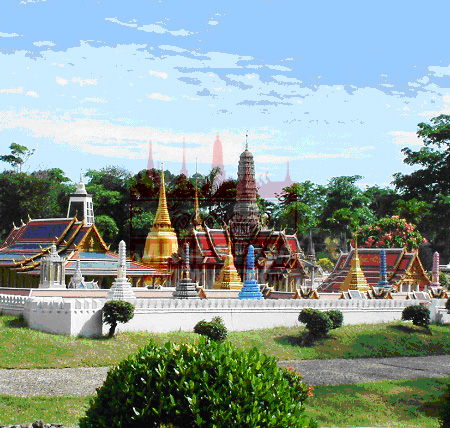 Pattaya has a reputation of being full of sex tourists which, in certain nightlife areas of Pattaya is true. Away from these small areas of the city though, Pattaya is primarily a fun beach resort for the family, and with tons of things to do for mom, dad and the kids.
For Thai families, Pattaya is a favorite destination as it's only an hour and a half drive from Bangkok, accommodation is cheap and plentiful and the beaches are nice too. If yo are planning a family vacation in Thailand and don't want to go as far as Phuket, then Pattaya is a good choice with plenty of fun things to do for the kids.
Visit the Beach – One of the top five best things to do in Pattaya for kids is to visit the beach.
Pattaya has two main beaches, Jomtien Beach and Pattaya Beach. Pattaya Beach is the more popular beach, but that also means there are more people and more mess. It is also where you will find the city's sexpats during the day, so unless you want to be surrounded by old western men and young Thai prostitutes, I would recommend Jomtien Beach instead.
Jomtien Beach is more upscale, prettier and, with less people. It is also more pleasant to swim there, play on the beach or just sunbathe, and far more suitable for familieswith kids.
Go on the Vimantaitalay Submarine – The kids will love the Vimantaitalay Submarine. A working submarine, you can travel several kilometers off shore Pattaya where, being actually underwater, you will see the areas marine life and coral.
You take a barge and a ferry boat out to the submarine, where you climb below and then tour the waters for around 45 minutes. Back on the barge and the ferry and back to Pattaya, the whole trip is only 1,800 baht for adults ($53) 1,350 baht ($40) for kids.
An exciting trip for both adults and children, it is an opportunity you're not likely to find in many other beach resorts in the world.
Visit Mini Siam – Another of the top five best things to do in Pattaya for families and kids is Mini Siam, an amusement park with miniatures of famous buildings. Mini Siam is actually not just 'mini Siam' it's also 'mini half of the world'.
There is a mini Eiffel Tower, the Statue of Liberty and other famous world monuments, as well as miniatures of famous Thai buildings like The Grand Palace and the Emerald Buddha.
Mini Siam can provide a fun couple of hours, especially for kids who love running around trying to spot the next famous building they know. As it is in pretty park grounds, mom and dad can get some nice photos as well.
Sri Racha Tiger Zoo – With more than 200 tigers and 10,000 crocodiles, the Sri Racha Tiger Zoo has more of these mammals than any other place in the world. The zoo also has some excellent tiger shows, with tigers jumping through flaming hoops and even riding horseback.
Underwater World – Pattaya's Underwater World is truly a world-class aquarium. It is the largest underwater aquarium in Asia, with three zones showcasing many different types of sea life. You will see rare shark, turtles, stingrays, starfish, more than 4,000 marine animals of around 200 different species.
Don't miss the Shark Feeding or the Otter Show (kids love this, as otters are so playful and cute), educational as well as fun for all the family.
Pattaya also has many other fun things to see and do for families and kids – the Million Years Stone Park, Funny Land Amusement Park, the Orchid Farm and Ripley's Believe It or Not, just to name a few – but these five are definitely some of the best.