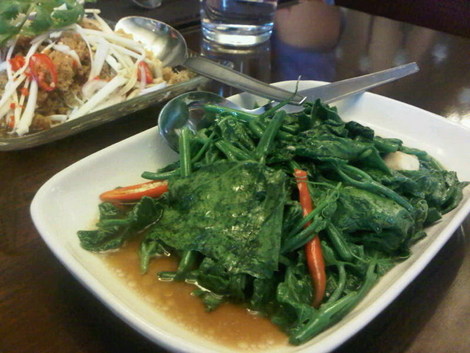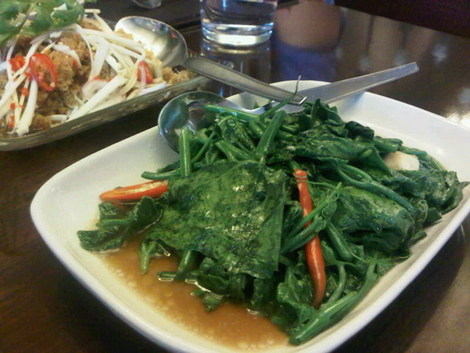 While many visitors to Bangkok, Thailand think they're ordering "vegetarian food" when they eat food at a local street stall or restaurant, it's not always vegetarian in the true definition of the word, not unless you buy it at a vegetarian-food-only stall or restaurant. Thais use a lot of fish sauce in their dishes and in restaurants serving "veggie dishes" it's often used, which a true vegetarian would be horrified at. That's why, when you're looking for real vegetarian food in Bangkok, you should only eat at Bangkok's best all-vegetarian restaurants. May Kaidee, Dosa King and Ethos Bakery Cafe, to name just three of the best.
May Kaidee – Anyone who knows anything about vegetarian food and Bangkok, when asked, will immediately tell you May Kaidee is the vegetarian restaurant in Bangkok and everyone who eats veggie food knows about it. Open for almost 20 years, May Kaidee has gone from a teeny tiny a-couple-of-tables restaurant to the top vegetarian restaurant in Bangkok, with three locations, a fourth in Chiang Mai, a cooking school and now even May Kaidee branches opening in the United States.
At May Kaidee, expect traditional Thai food (som tam (spicy papaya salad), Pad Thai, Massaman curry, Thai spring rolls, noodle and rice dishes, all of it using typical Thai spices and herbs but everything vegetarian and some foods even vegan.
Prices are cheap here too. Dishes begin at 50 baht ($1.25) and go up to 80 baht ($2.75). Portions are large, the food is cooked fresh while you wait and, if you hate cooking, don't forget to take a To Go back home. You can eat healthy for days.
The three May Kaidee restaurants in Bangkok are all in the Khao San Road area. Check out her website for directions.
Dosa King – Who ever said vegetarian food in Bangkok, Thailand had to be Thai food? There are some amazing Indian vegetarian restaurants in the city too, but if you want all-vegetarian, cheap and delicious, one of only a couple of places every vegetarian or vegan goes is Dosa King.
Dosa King does Indian vegetarian better than anyone and also cooks up tons of vegan dishes, if you're on a very strict diet. Their Indian food is from both the north and south of India and although its emphasis is on dosas (thin crepes stuffed with delicious fillings), there's also an enormous menu of other vegetarian dishes – vegetarian pappadums, vadas (deep fried patties), lentil donuts, spicy veggies on skewers and a whole slew of other things.
While May Kaidee is probably healthier as there's not the amount of fried food on their menu that appears on Dosa King's, if you enjoy authentic Indian cuisine made to a vegetarian standard, you shouldn't miss eating here.
Prices too are inexpensive. Two people can easily eat here for 300 baht ($10) and that includes drinks and dessert.
Dosa King is at Sukhumvit Soi 11/1, just a short walk from the Nana sky train station.
Ethos Bakery Cafe – Another Bangkok vegetarian favorite and easily one of the city's best, Ethos is also vegetarian and vegan. By their name too, you can probably figure out they have a large menu of dishes that are not just typical veggie fare, but also include baked goods and drinks.
At Ethos Bakery Cafe, there's a wonderful mix of Thai, Indian and Western vegetarian dishes – veggie burgers (they're wonderful, thick and tasty), hummus, spaghetti, salads, soups, curries etc. They serve only organic rice and, in my opinion, also have on the menu one of the best fresh mueslis (the crunchy breakfast cereal) I've ever eaten as it's absolutely loaded with dried fruit. Plus, if you're in around breakfast time (or later, it doesn't matter) you must try their pancakes. Unbelievable.
Don't miss their vegan baked goods too – an awesome apple pie and a chocolate cake I've eaten there at least ten times often invade my dreams. Plus, with all vegan ingredients, you don't even feel guilty after you've eaten it.
The only drawback to Ethos is they don't like you to sit alone if you're eating alone, as they want to cram customers in. So if you don't enjoy sharing a table with people you don't know, eat at May Kaidee instead. If you don't mind. No worries. And it is a great way to meet new people.
Ethos Bakery Cafe is at 85/2 Tanao Road, Banglumpu, in the alley way next to May Kaidee.