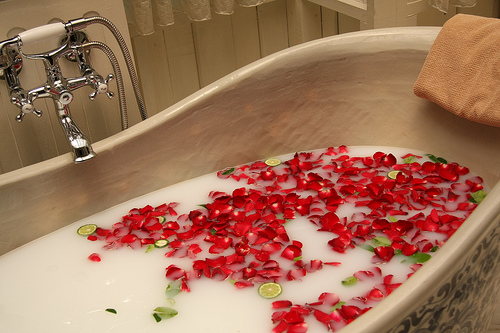 If you're looking for a relaxing place to rejuventate while getting treatment for your mind, body or spirit, why not consider one of Bangkok's best wellness centers. Unlike the U.S., Wellness Centers in Bangkok are inexpensive and, if you're feeling a bit rundown or tired, visiting a Wellness Center in Bangkok will perk you right up.
Life Center – Only in Bangkok, Thailand will you find an entire mall dedicated to Wellness Centers. The Life Center is on Sathorn Road in Bangkok and is four floors chock full of health, wellness and beauty salons and stores. Here, you'll find anything you could ever possibly want to make you feel healthier and more beautiful.
Billed as a 'lifestyle mall', The Life Center offers dental clinics, a spine clinic and gym, fitness places, diet facilities, cosmetic stores, spas, a center for assisted reproduction (if you're having problems conceiving), and an enormous fitness zone. It's Asia's first mall providing nothing but health and beauty.
Located at 1 Sathorn Road, it's easy to get to. Just take the BTS sky train to Sala Daeng station or the MRT to Lumphini and it's a 3-5 minute taxi ride from there.
Tria Integrative Wellness – Another unbelievably huge Wellness Center, Tria Integrative Wellness is an urban health center for those who want to improve their well being. You can go for individual treatments or for an assessment from a medical profession. After the assessment you'll be assigned a team of health specialists who will recommend certain treatments optimized for your health needs.
These might include a nutritional program, colonics, detoxing, hydrotherapy, an exercise program, massage therapy, a seaweed wrap, facials or any number of other health and beauty treatments. Try one of the fruit wraps or an herbal massage. At between $40 and $60, they're a fraction of the cost of the US or Europe.
Tria Integrative Wellness is located on Rimklongsamsen Road. Take the MRT underground to Huay Kwang and catch a taxi from there.
Rasayana Retreat – Detoxing is the name of the game at Rasayana Retreat in Bangkok. They provide colon hydrotherapy programs, detoxing by nutrition and raw foods, massages, aromatherapy and more. They have anti-cellulite skin rolling massages, Thai herbal massages, and even do a Jet Lag Recovery Package where, for around $95, you can spend 3 hours being lulled back into a calm world after the nightmare of a long air plane flight.
Rasayana in Bangkok also has a Raw Food Café, where you can buy fresh juices and shakes, soups, salads and vegetarian dishes all made using gourmet recipes. Delicious. Rasayana Retreat is easy to get to.
It's at Sukhumvit Soi 39, so just take the BTS sky train to Phrom Prong and it's a short walk from there.
Bangkok Wellness Spa – Brand new in Bangkok, this spa is on Pahonyothin Road in northern Bangkok, well out of the city center. Using a mixture of Chinese and Thai treatments, but based on Western medical standards, Bangkok Wellness Spa offers weight loss programs, diabetes treatment programs, detoxification, chronic pain management for men and women, a rejuvenation package and much more.
Most of their packages require one or more nights stay in one of their beautiful boutique rooms, but you'll get three meals a day, health and wellness treatments, and many other beauty and health options included in the price.
Bangkok Wellness Spa is part of the private hospital, B Care Medical Center and is located at 6 Pahonyothin Road.