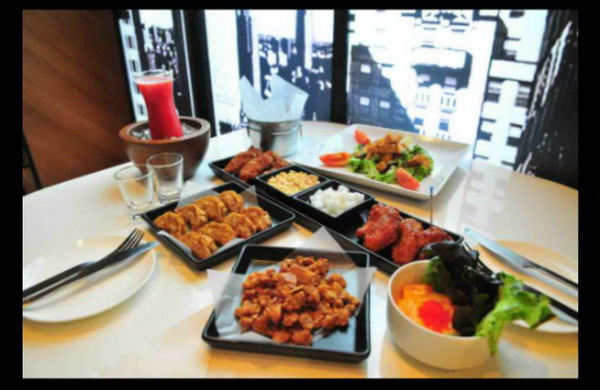 Thais love fried chicken and it's sold all over Bangkok, from low-cost street stalls to high-end restaurants. But, Thailand's lastest chicken venture, BonChon Chicken has taken even Bangkok's jaded fried chicken eaters by storm. So much so, I now have several Thai friends that, if they want fried chicken, BonChon Chicken is the only place they'll eat it at.
Location of BonChon Chicken – Located in the ultra-trendy "lifestyle mall", Seenspace, in the ThongLor area of the city, you'll find BonChon Chicken (a quite large restaurant), on the second floor.
Food at BonChon Chicken – Originally from Korea, BonChon Chicken has slowly spread through much of south east Asia and then on to some areas of America. But, up until recently, they'd skipped over Thailand until the first BonChon Chicken opened at the beginning of 2011.
Now, if you're like me, you probably think fried chicken is fried chicken is fried chicken, right? Basically, it cooks a certain way, and although incredibly tasty, it's pretty greasy and really not that good for you.That's exactly what I thought until I ate fried chicken at BonChon Chicken in Bangkok.
When you first arrive at BonChon Chicken, you're presented with a menu that tells you step-by-step how to order. First you choose how much chicken you want, including which parts (wings or drums). Second, which flavor do you want – hot, hot garlic or a mix of both ? Third, decide which side order you'd like, coleslaw, kimchi coleslaw (remember, it's Korean), rice or sticky rice and, fourth, for an extra 35-120 baht, add an extra side if you'd like more than one (and here, there are a few extra ones like potstickers and seasoned fries).
You place your order, you wait, and five minutes later your pipiing hot chicken arrives. You take one bite and you realize, you're in fried chicken heaven. It's crispy and crunchy, the coating kind of melts in your mouth, but it's not remotely oily or greasy. (How on earth do they do that?) In fact, this chicken is cooked so perfectly, you're never going to be happy with chicken anywhere else in Bangkok again.
Prices – Of course, the fried chicken at BonChon Chicken is quite pricey, compared to many other places in Bangkok. Starting at 150 baht ($5) for their smallest order of 1 drumstick and 4 wings, you'll pay up to 360 baht ($12) for their larger orders. I can buy a similar order size to their smallest order at my local street food stall for around 40 baht, so BonChon is charging more than three times the price (of course, you do get one side order with their chicken).
But, as the food here is so superb, I didn't mind paying the higher price at all and I'm guessing, from all the happy faces around me, no-one else did either. After all, you do get what you pay for and, in this case, you're paying for perfection.
You'll find BonChon Chicken at 2/F Seenspace, Thong Lor 13, in Bangkok. Easiest way to get there is to take the BTS sky train to Thong Lor station and hop on a motorcycle taxi from there.