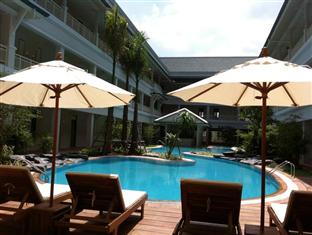 One of the newest luxury hotels in Bangkok is the Buddy Oriental Riverside Pakkred Nonthaburi. Located in Nonthaburi, on the outskirts of Bangkok, it's around 20 kilometers from downtown Bangkok,  perfectly located for Don Muang Airport and Impact Arena. It's also right on the Chao Praya River, so getting into downtown Bangkok by boat is a breeze.
This stunning luxury hotel opened in early July 2011 and has 83 gorgeous rooms and suites, decorated in a minimalist traditional Thai style.  The hotel has a large art collection, which is displayed throughout the hotel, so no wonder the owners call it "an art hotel".
Rooms have hardwood floors and are light and bright, and designed as traditional bedrooms would have been in the 19th century in Thailand, but with all the mod-cons.
Guest rooms have air-conditioning, flat screen TVs with satellite, a mini bar, bathrobe and slippers, hairdryer and Wi-Fi internet.
The Buddy Oriental Riverside Pakkred Nonthaburi has two swimming pools, a fitness center, a spa, massage services, meeting rooms and a large conference hall with seating capacity for up to 200 people. There's also a wonderful Italian restaurant on-site, a Thai eatery and a wine bar.
If you're looking for a luxury hotel in northern Bangkok or right across the border in Nonthaburi, look no further than the Buddy Oriental Riverside Pakkred Nonthaburi. Luxury, style, superb service, exquisite food, world-class facilities and gorgeous bedrooms. What more could you ask for.
Book online at Booking.com.