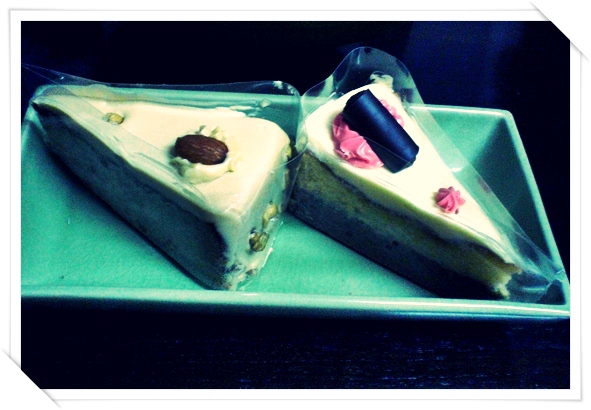 First, let me say, I don't buy that much cheap, delicious cake from Bangkok market stalls (I have to say that in case my mother is reading, so she won't harp on about my 'diet'). But, I do buy it occasionally and, when I do, I save at least 300 percent compared to the price of a slice of cake in a typical Bangkok cake shop.
These two slices of cake are from a Bangkok market stall near my house. The market is only open on Wednesdays and Saturdays and is set up on a small parking lot outside a local school. It starts around 4pm and finishes about 7pm but, during those three hours, it's packed with Thais buying cheap high-quality food to take home. And, yes, one of the tings they buy is cake.
Not only do I buy cheap, delicious cake at this Bangkok market (only occasionally, Mother!), but the price I pay is ridiculously cheap compared to the cake shop near my house.
For these two slices of cake (one a chocolate and vanilla topped with a creamy butter topping and a chocolate 'log' and the other a coffee cake topped with butter topping and an almond), I paid 20 baht each — or around 68 cents. The cost of a similar slice of cake at a cake shop nearby is 75 baht — or $2.62. And, no, it doesn't taste any better.
The pieces of cake are nicely displayed on the stall and wrapped in a plastic wrapping, so they don't fall all over the place as you're walking home. The seller also puts the cake in a cardboard cake box, just like they would in a cake shop, so they still look pretty when you're eating them.
If you, like me, like an occasional slice of cake, before you head to a Bangkok cake shop check out the street markets near your hotel or apartment. You'll often find small-time sellers offering the tastiest cakes you've eaten in a while and at prices too cheap to pass up.