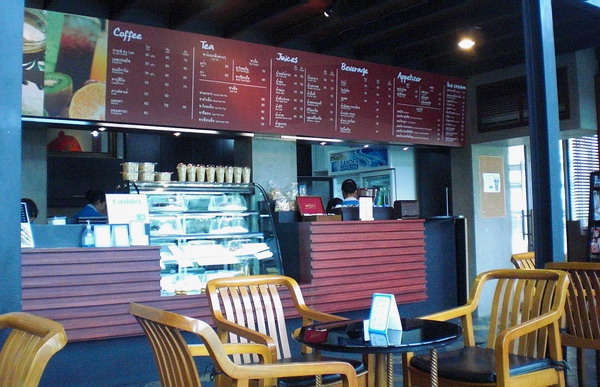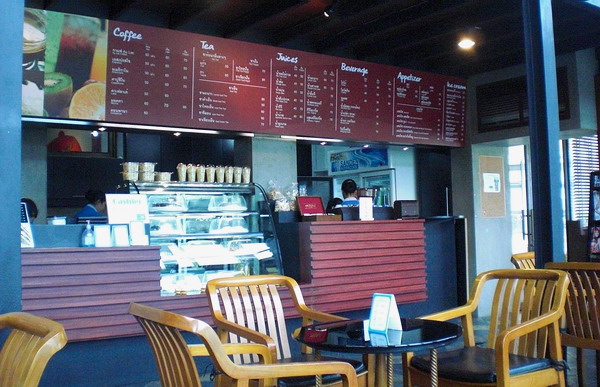 Cafe au Lac is a pretty, independent coffeehouse located in a small man-made lake at a market in northern Bangkok, Thailand. One of my favorite coffee shops for years now, Cafe au Lac is at an upscale market called Bon Marche. The market is built all around a lovely manmade lake and Cafe au Lac is right on the lake. Cafe au Lac is a wonderful cafe and one that shouldn't be missed.
The Staff at Cafe au Lac – I've been going to Cafe au Lac on and off for more than five years. If I don't go for a few months, the next time I go, the staff is all smiles and questions – asking where I've been, why haven't I come to the cafe? Service is excellent, hot coffee drinks are boiling hot, food is served quickly and all with a lovely Thai smile. When I leave, all the staff crowd around the counter saying "Sawatdee Kha" and asking when I'll be coming again. Who wouldn't want to go to a cafe where the people are so nice?
Drinks at Cafe au Lac – Cafe au Lac serves many different kinds of drinks. Hot and cold lattes, americanos, mochas, green teas, shakes, fruit drinks, Chinese and Thai teas, fruit teas – in fact, there's a choice of more than 50 drinks, so everyone can find anything they like here. Prices too are inexpensive, with lattes only 50 baht ($1.40) and other drinks between 30-60 baht (95 cents to $1.70). I love Cafe au Lac because the lattes area always boiling hot and I've never had to send one back to be reheated, unusual for a Thai coffee shop.
The Food at Cafe au Lac – Cafe au Lac has a small menu but the food is delicious. They mainly serve soups, sandwiches, salads and cake and desserts. Today, when I went in, the menu had changed and they'd added several different kinds of sandwich as well as Pumpkin Soup (and yes, I recommend the Pumpkin Soup – creamy, thick and tangy). My friend and I also had Club Sandwiches and what's really unusual about them is they use mainly boiled eggs with ham. lettuce and a mayonnaise-based dressing. They were lovely. Prices for a Club Sandwich, which comes with a small side salad, are 70 baht (just over $2). Don't miss the cakes, cheesecakes and pastries too.
Location of Cafe au Lac – The thing I love the most about Cafe au Lac is the location. It's in the middle of Bon Marche market in northern Bangkok and is built right on the side of the small man made lake. There's a large wooden deck you can sit on outside or, if you want air conditioning, there are three very large rooms inside plus a large balcony area upstairs.
The deck outside seats about 20 people with the area inside seating more than 100. It's really lovely to sit by the enormous glass windows on comfy sofas or chairs and look out of the window across the lake to the market on the other side. Also a wonderful location as you can go grocery shopping afterwards, as well as check out the hundred or so gift and clothing stores.
Cafe au Lac also has free Wi-Fi internet for customer use, and it's very fast. Just ask the girl behind the counter for a password to access it.
If you're looking for a relaxing coffee shop in northern Bangkok, one where you can hang out for a long time, have good coffee, tea or fruit drinks and eat an inexpensive, delicious lunch, then you must try Cafe au Lac. It's lovely.
Cafe au Lac is located in Bon Marche market, on Prachaniwet 1 in northern Bangkok. It's close to the large temple, Wat Samee-en Aree, if your taxi driver doesn't know where to go.