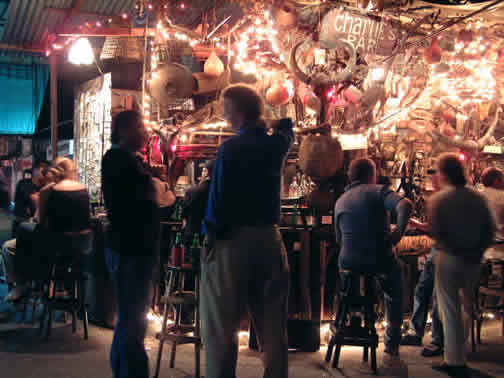 If you've been in Bangkok, Thailand for a fair while and haven't yet been to Cheap Charlie's, you're missing a treat. One of the city's most famous and some say, oldest, street bars, Cheap Charlie's is known for it cheap booze (as the name would suggest), and it's hole-in-the-wall fun atmosphere.
A foreign and not-Thai hangout,  Cheap Charlie's is quite busy at any time of night, but particularly in the early evening when folks are leaving work or getting ready to go out for dinner. Grab a 70 baht beer, a vodka Red Bull or a cocktail, pull up a stool, cozy up to the bar, and have a natter with whoever is sitting next to you (folks are friendly here, and most are happy to talk).
Did we mention, by the way, that it's all outdoors, with no doors, windows or even a front of the bar? It's all laid out just curb-side, with the traffic whizzing by just about as close as you can get – but it's fun. Plus, there's so much stuff hanging up everywhere (who knows where most of it comes from, but they say from the owner's own collection as well as bits and bobs customers have given him over the years), you never get bored.
Cheap Charlie's is open every day except Sunday, with the first folks straggling over as the lights go on at 5pm.
Oh and don't miss the penis-shaped bench. You've got to sit on one of those at least once in your life.
You'll find Cheap Charlie's at Sukhumvit Soi 11. Just get off at Nana BTS sky train and walk a few minutes.